Hi all! Sorry for the delay in posting, but, I am all too excited to report that my project is finished *fingers crossed* and now I can go back to having balance again 🙂
This morning I went for a simple breakfast – something fast, easy with protein, fiber and fruit.
1/2 c TJ's High Fiber Cereal (aka fiber worms)
1/2 C Nature's Path Organic Pumpkin Flax
1 small banana*
1 c ff milk
* The Jump Start plan called for 1/2 a grapefruit – bleh! So I had this instead.
For some added protein, I had another Perfectly Hard Boiled Egg.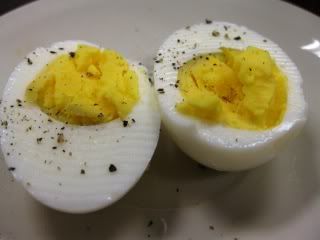 All together with the "Hooray!" Mug of decaf Starbuck's. That is what this cup makes me think of when I grab it – Hooray!! LOL I truly do LOVE our entertaining random coffee cups at work. Our company is all about not using throw away cups, silverware, plates and I think that is great. We all rotate dish duty and luck me – this week is mine!
Later on in the morning, my stomach told me it was time to break for a snack. I had an amazing orange.
With two more of the BL Blueberry Bran Mini Muffins.
And my absolute favorite tea of all times – Good Earth Sweet & Spicy Herbal Tea – it's caffeine fruit and reminds me of Big Red Gum.
I am heading out today for a nice long lunchtime walk and chat session with my co-worker. We are experiencing a cooling trend in the 60's but I think it will be a nice change.
My quick recap for yesterday:
1,460 Calories Consumed
2,559 Calories Burned
8,734 Steps Taken
FUN NEWS THIS AM: Kath received her Annie's Natural's Go Green Giveaway loot from me today!!! I included some bonus stuff for fun & well, because I can – you can check it out by clicking HERE! Congrats again Kath!
See you all after lunch!