3 O'Clock finally rolled around and that meant cake time!!! Last night I made up Rachel's Banana Raspberry Cake with Lemon Cream Cheese Frosting.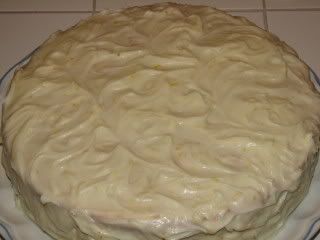 It was sooooooo GOOD! My other co-workers also bought her a huge layered chocolate/caramel cake which I had a small sliver of too….mixing the healthy low-cal/low-fat with a little bit of the full fat stuff = moderation, right?! 😀 The pic makes the pieces look bigger than they areI have to say though I LOVED the fruit cake best…..it might just be the perfect dessert for Easter 🙂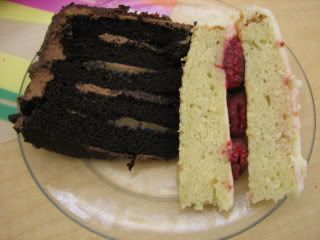 Here are the two cakes all lit up with candles (ok, not enough for her age, but who is counting) and of course a pic of her after blowing out the candles.
As promised yesterday, here is a picture of the Snicker Surprise Cookies I made for Rachel & The Husband. I also gave her a TBD Girls Night out for a Pedicure plus dinner…..added bonus that I get to go too!
So ~ does anyone want a piece of cake or a cookie? There is too much lying around saying "Eat me! Eat me!" LOL
Tonight I am finishing up the bake sale baking so I can ship off my package to the lucky winner of my Trio of Goodies! I can't wait to hear what she thinks. Oh and I suppose I should probably cook a real dinner tonight since it's been awhile.
Catch you all late tonight after I survive it all!