The Husband's plans for our fun day got changed today when our cute little nephews 10 & 12 called up to say it was opening day for Baseball. That meant that they both played today and we always try to make it on days when they are both playing (to keep things equal and all). The Husband told me he had planned for me to pick 1 of 3 things or to come up with a new idea (Winchester Mystery House, The Beach, or The Mystery Spot in Santa Cruz). I told him I'd definitely take a rain check, but, we couldn't miss out when they personally called all excited to invite us.
I packed up some snacks to take to the park to share (Annie's Organic Snack Mix, Pumpkin Seeds, Cuties) and he packed up some candy to share (Airheads & Tamales). I had about 2 napkins full that looked like this (only 2 cuties though).
There was a 1 hour break between games so we stopped for a quick sandwich at a local place. I wasn't feeling the veggie sandwich today as I was a bit hungrier so I went with the turkey/ham on whole wheat. It was eh, ok, but, as The Husband put it, at least it was something in our bellies.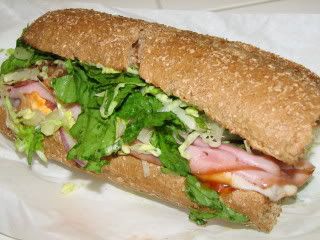 After our baseball game marathon (which they both did awesome and were so cute!), we came home, got changed, and met my parents for dinner. In January we participated in a charity Texas Hold'em poker tournament and won a free dinner for 2 at The Back 40 Texas BBQ. Tonight was the perfect night to get a free dinner so we went all out. The Husband had one request ~ order the mega plate so he could have the leftovers lol. I was happy to because it allowed me to sample like everything on the menu 🙂
For starters, we had their Homemade Spicy Beer Battered Onion Rings. I really wanted the baked not fried sweet potato crinkles, but, I got vetoed by everyone but my mom at the table. I had 4 of these rings – I really liked the spicy kick but felt they should be crunchier.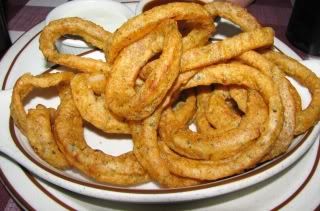 Next came our salads. I usually order a vinaigrette or olive oil/vinegar, but, I feel that BBQ sometimes just requires ranch. I dipped my fork in my dressing for a little flavor with each bite. This allowed my to use only about 1/3 of the dressing cup.
They brought out this amazing plate of homemade breads. Included was banana nut bread, cornbread with honey butter and a mini pumpernickle roll. The Husband claimed the banana bread and my mom claimed the roll so it left my dad and I with the cornbread. I had 1/2 a slice with a smear of the honey butter. It was tasty, but, not so good that I couldn't resist the other half.
Now, prepare yourself for the Plate~o~Meat that The Husband wanted me to order. I am sure the waiter was wondering where I was going to put all this. Don't worry though, I only had 2 ribs, 1 bite of the beef and the chicken leg. Believe it or not, The Husband polished off a platter just like this and then had a little bit more of mine. He will be snacking on this for the next couple of days.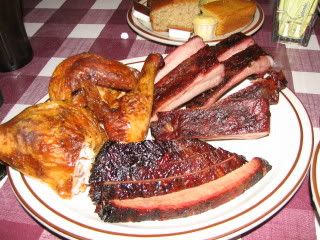 With each dinner you have your choice of ordering "Texas Style" or "Calfornia Style". I went for California because of the sides. My side included the salad above, pickles and roasted garlic mashed potatoes! I had about 1/2 the potatoes so I could save room for dessert. I also stole 1 of my dad's fries and had a bite of The Husband's beans.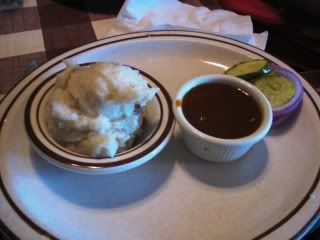 My mom and I had planned out our meals to sample everything but to save room for dessert. We decided to split the small apple crumble that came topped with vanilla bean ice cream. I think for me this was probably the highlight of the entire meal. Next time, maybe I should just start here 😀
Now here is the part that is funny to me and really made me laugh. I know you all think it's cute how The Husband likes to have pictures of his plate shown too. Well, guess what I found out tonight….my Dad does too! He wanted me to take a picture of his gigantic piece of pecan pie to share with you all. It was served in a bowl but he put it on a plate saying pie isn't meant to be served in a bowl. He has a point though lol. Anyway, here it is…..
Whew! Did that make you all as full as it did me just by looking at it? I actually had the perfect amount of the food. I left the meal feeling very content and not overly stuffed. It was a great day of watching our nephews and catching up with my family. We really enjoyed chatting at dinner and hanging out with them after.
I am off to catch some "zzzz's" now….hopefully my body let's me sleep in tomorrow. See you in the morning or, um, afternoon 😀