Happy Hump Day all!! Wasn't The Biggest Loser awesome last night?! I have two favorite parts ~ the train the trainers had me totally LMAO and then, I absolutely loved how they showed the contestants the way they were doing the first workouts to now. It totally shows you that even when you start doing push-ups and feel like you can't, if you keep at it, you will get there. I LOVE the twist they threw in next week where America gets to pick who goes to the finale!
Love that show!
Ok, onto breakfast. I have decided today that every breakfast should seriously start with an amazing cheesy, spicy quesadilla like this.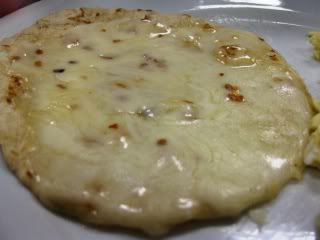 3 Tbsp lowfat monterey jack cheese
1 fabulous handmade chile lime corn tortilla
a sprinkle of crush red pepper flakes
On the side I had an Egg/Egg White Scramble
1 egg
2 egg whites
sea salt
freshly ground red pepper
a few dashes of spicy Tapatio ( my favorite hot sauce!)
To the eggs, I was supposed to add 1/3 cup of salsa but this morning I wasn't feeling the salsa. I brought it to work with me and I still had not changed my mind…so I guess I saved myself about 10 calories LOL.
I also had 1 cup of the super sweet Watermelon & Cantaloupe that The Husband cut up for us. I LOVE melons and could totally sustain on them, I think 😀
All together with the TJ's Garlic Chipotle Salsa that I didn't use, 1/2 calf coffee and my fun new Nathan LOVE bottle 🙂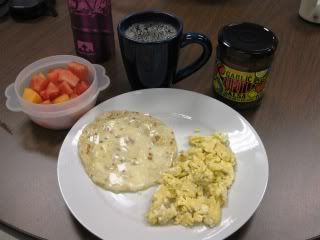 Sorry for the bummer pictures today ~ I think my camera is tired like me! 😀
I am super excited to report an awesome recap for yesterday:
2,998 calories burned (wish I knew I was so close, would've worked for 2 more to get to 3K)
15,093 steps taken – yahoo!
1,460+ calories consumed – this was my total before my BLT's hmmmmm….
TODAYS FUN NEWS:
Have you ever wondered what it takes to burn off two slices of pizza? Here is a super cool article that gives you a nice summary ~ click HERE to find out if it's worth it or not.
I am sharing this next one so I can live vicariously through you all. Tonight from 5-10 PM Baskin Robbins has 31 CENTS A SCOOP!!! Now, if I wasn't doing the whole Jump Start thing, I'd be all over that – so go out and get your super cheap ice cream today!!! So jealous…..
Today I am heading out for another fantastic walk/gossip session at lunch and I'll make sure to post that Spicy Tomato Soup recipe you all want by then (hopefully!)
Catch ya on the flip side!