Tonight I made up another 30 day Jump Start dish – Cheesy Polenta with Vegetables. I didn't find the recipe online so I will show you all through pictures. It was fairly easy to make.
Start off by caramelizing a sweet onion in a little olive oil.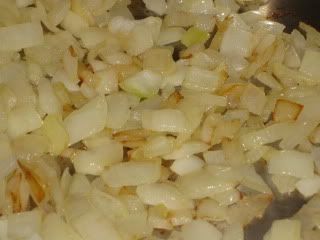 Then, add in 2 cups of mushrooms cooking for a few minutes.
Set your veggies aside and make your polenta. Heat 2 c of broth with 2 c of milk with thyme and oregano. When it is about to boil, add in 1 c of corn meal whisk until boiling. Cook your polenta until it is thick and creamy ~ about 10 minutes.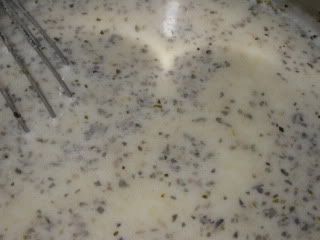 Now here is MY FAVORITE CHEESE TIP of all time. Whenever you are using any cheese at all, use finely shredded – it looks like more and spreads further. When you are measuring it, always use a scale (2 oz = 1/2 cup) – you get more!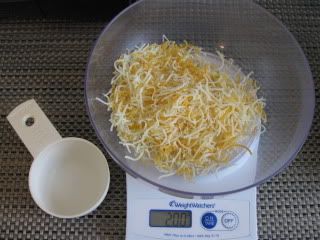 Next, stir in your 1/2 c of finely shredded cheese with a little fresh basil.
Add your mushroom/onion mixture back in and salt/pepper to taste. I honestly couldn't taste the cheese at all so I added 1/4 c of shredded parmesan and it did the trick. I think having a stronger flavored cheese in this recipe is the key to "cheesiness". I am not sure why they say this recipe has vegetables – mushrooms plus onions isn't really vegetabley (yes – it's a word!)
With my cheesy polenta, I had 1/2 of BBQ chicken breast.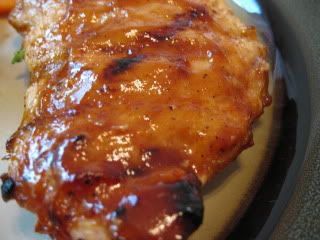 And 1 cup of mixed veggies – Doesn't The Husband make THESE so much better than mine? I think I need to have him teach me.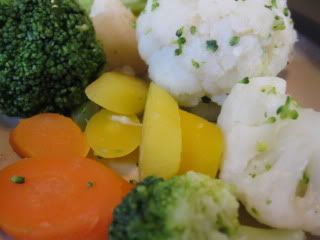 On a fun note, The Husband stole my camera while we were cooking and snapped this picture of our adopted kitty – she is just too cute. He always cracks me up when I find pictures like this on here when I upload.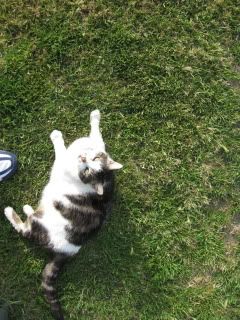 GIVEAWAYS GALORE:
Since I haven't given you all any contests to check out lately, be sure to stop by and enter these.
* Sonny & Joe's Hummus – Click HERE!
* You can pick what you want to win in this giveaway by clicking HERE!
Coming up next ~ My first Hungry Girl Snack Pack Giveaway!