My Banana Swirl Parfait did a decent job at holding me over for about 3 hours….Then, I was STARVING! I knew that would happen since I forgot my fruit. Lucky for me I had a drawer stocked full of their healthy recommended snacks. I grabbed a 100 cal mini bag of popcorn ~ it was sooo good. Why have I waited so long to eat popcorn?!
Body Sculpt was so incredibly intense today at lunch that I just know I am going to be sore tomorrow for sure. I think she was seriously working us so we would have "Buns of Steel"!
I came back for lunch and I was really looking for to the "Citrus ChickPea Salad". It is 4 WWP for the ENTIRE dish.
1/2 can chickpeas
1 persian cucumber, sliced and quartered
1/2 cup organic heirloom cherry tomatoes
2 Tbsp chopped fresh cilantro
2 tsp Extra Virgin Olive Oil
2 Tbsp freshly squeezed orange juice
2 Tbsp freshly squeezed lime juice
Sea Salt & Pepper to taste
** For future reference I would ADD 1 Tbsp balsamic vinegar to boost the flavor.
I whipped it up last night after the Mexican Fiesta and let it marinate overnight.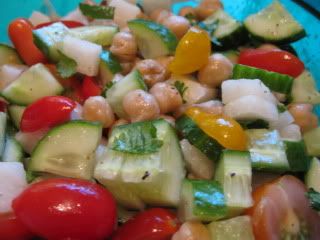 All in all the flavor was not bad and I think if I had added the balsamic it would have been perfect! It was light and refreshing and would be good on a hot summer day.
I managed to hold out until 3:30 for my afternoon snack ~ 10 raw almonds and 1 Heaping Tbsp TJ's Berry Blend.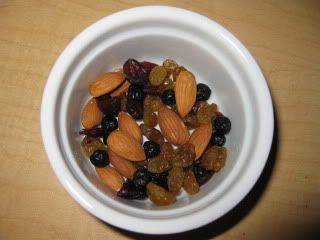 Tonight is going to be another busy one. Since I somehow managed to leave my CELL PHONE at the GYM ~ ugh! I have to track back after work to get it. Drop my co-worker off, head to the nephews baseball game, stop by the grocery store (forgot shrimp!), cook dinner plus dessert (I can't wait – it sounds so good!) and journal. I did take the gym up on their free fruit selection and grabbed an apple for later since I may need it.
Phew! See you all late tonight!