I will be the first to admit that I LOVE all things bread – especially the doughy, chewy kind. While shopping for our groceries for the week, I came across some Whole Grain Naan Bread that is only 3 WWP/150 Calories for 1/2! It felt so soft in the package that I knew I had to try it.
It's really BIG – like bigger than a piece of paper – yeah for low cal chunks of bread. The ingredients are pretty clean too!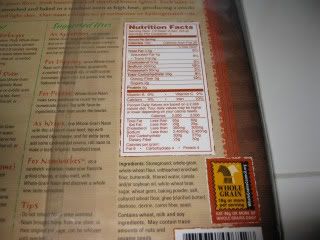 Do you all have any ideas for how to use it other than to just eat it straight up?

I resisted the temptation to open up that Naan bread because I knew I'd ruin my dinner. Instead, The Husband and I opted for snack on some more PopChips while dinner was cooking. Tonight's flavor was Parmesan Garlic.
I had 4 chips while cooking and let him have the rest. I LOVE the parmesan flavor in this version but it is pretty garlicky too. If you are a garlic lover, you will love this. If not, I think you still will like it because honestly I haven't met a PopChip yet that I don't like 🙂 Just carry some mints and you will be fine.
Dinner tonight was a modified Jump Start dinner cooked all on the grill ~ no heating up the house on our 100+ degree day. I chose to BBQ up some chicken instead of pork loin since TJ's had their all natural chicken on sale for $1.29 a lb! You can't beat buying an entire pack of chicken for $2.36.
For our veggies, I trimmed up some fresh asparagus, seasoned it with some garlic salt & pepper and placed in on the grill in foiled sprayed with olive oil nonstick spray.
I tried out a new recipe for Confetti Couscous in the Jump Start book and I have to say I was pleasantly surprised. Super easy to make and really delish. I have to post the recipe for you all because it was THAT good.
Oh, wait before I forget, The Husband wanted me to share his dish with you too! He doesn't do couscous, so we made up some Annie's Mac n Cheese for him.
Confetti Couscous
Source: BL 30 Day Jump Start
Couscous:
1 tsp olive oil
1/4 c chopped yellow onion
1 1/2 c fat free, low sodium vegetable or chicken broth
1 c dry, whole wheat couscous
Dressing:
1 Tbsp orange juice
1 1/2 tsp lemon juice
1 1/2 tsp dijon mustard (I used Annie's Naturals!)
2 Tbsp olive oil
Confetti Salad:
1/2 c chopped prunes or dried berries (I used TJ's Berry Blend)
2 Tbsp coarsely chopped pistacios
2 Tbsp chopped fresh basil
2 Tbsp chopped fresh mint (I omitted this)
1 Tbsp grated orange peel
Salt & Pepper to taste
To make couscous: In a 1-quart saucepan, heat 1 tsp olive oil over medium high heat. Add the onion and cook for about 3 minutes, or until softened. Add the broth and bring to a boil. Add the couscous, stir, cover, and remove from teh heat. Let the couscous stand, covered for about 5 minutes. Transfer to a mixing bowl and set aside.
To make the dressing: In a small bowl, whisk the orange juice, lemon juice, and mustard. Whisk in 2 Tbsp olive oil. Set aside.
To make the salad: Add the dressing, prunes, pistachios, basil, mint (if using), orange peel, salt and pepper to taste to the couscous. Mix well.
NI: Makes 6 servings. Per serving: 177 calories, 4 g protein, 26 g carbs, 4 g sugar, 7 g fat, 1 g saturated fat, 0 mg cholesterol, 5 g iber, 130 mg sodium
See ~ doesn't that sound delish? It's so easy to make too.
For dessert, I had 1/2 c double chocolate frozen froyo with 1 Tbsp pistacios – salty, sweet, crunchy, yum!