I am sorry I didn't get a chance to post my snack and lunch sooner ~ my day was seriously crazy busy from the time I sat down. Sometimes I think days like that are good because they fly by and other times I think nope because I never get up from my desk. No lunchtim walk to enjoy the 70 degree weather we are having and I ate as I worked. But, all that doesn't matter now – it's the weekend and it's time to relax – yahoo!
For lunch, I made over my leftovers from last night into a big salad.
In the mix:
Romaine lettuce
Leftover black beans
Leftover Spicy Potatoes
1 crumbled blue organic taco shell and 1 eaten in a moment of starvation lol (not pictured)
1 Morning Star Chick Patty Toasted
Cherry Tomatoes
Mini peppers
TJ's Pineapple Salsa
Cilantro
Just look at all the colors! This salad totally hit the spot and kept me satisfied all afternoon.
This morning as I frantically worked away rocking out to some tunes, I snacked on a Trader Joe's Light String cheese and an apple for some crunch (crunch=stress!)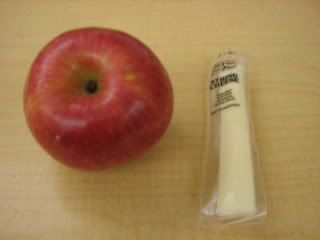 CUPCAKE UPDATE:
When all was said and done I made up the cupcakes for my co-workers. They all absolutely LOVED them, then, again, who doesn't love a cupcake. I split mine with one of my other co-workers and I have to say it was pretty fabulous. I didn't think I'd like them since I am not a fruit and chocolate person, but, the combination goes really good together. The sauce on the cherries sort of melts into the cupcake and gives it a nice added sweetness while the fluffy vanilla buttercream makes the cupcake.
I am off to fix our dinner, relax and watch Role Models with The Husband. I can't wait for the movie, but, wish I had a chef to do the cooking for me 🙂