Last night I threw all the ingredients I needed in the crockpot to make a homemade spagetti sauce. I definitely think the real deal is better than any canned or jarred sauce you can get. You can easily whip up a huge batch of this to have now and freeze for later. The Husband loves it and always requests to have some left out for him to "snack" on lol.
This is the sauce that I used for my homemade vegetable lasagna. It is really thick and hearty but if you do not like the chunks, just puree it when you get home.
2 28 oz cans crushed tomatoes
1 28 oz can diced tomatoes, drained
1 6 oz can tomato paste
½ c chopped green bell pepper
½ c chopped red bell pepper
1 large celery stalk chopped
½ c chopped onion
1 Tbsp sugar
1 package 8 oz fresh mushrooms
1 large carrot grated
3-4 cloves of garlic, minced
1 T Italian seasoning
Pinch crushed red pepper
Salt and Pepper to taste
Optional: ¼- ½ cup good quality red wine
This fills my entire small 3 quart crockpot. You can increase the crushed tomatoes by 3-4 more cans for larger crockpots. Cook on low for 8-10 hours.
The house smelled so amazing when I walked in the door. I couldn't wait to get started on making this cookinglight recipe that I modified.
I used the sauce above as my base. Here is what it looks like after adding in the vegetables for the lasagna.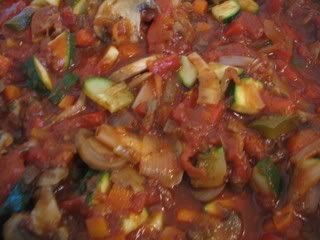 I added a layer of fresh spinach to the mix and tried out the Trader Joe's no cook lasagna noodles. The noodles were not bad, but, they were a little chewy like. I think it is probably worth the extra step to boil your own noodles. I also added salt and pepper to the ricotta and finely shredded my mozzarella so you get more. I sprinkled a little fresh parmesan between the layers as well for additional flavor.
After layering everything , it was ready to go into the oven.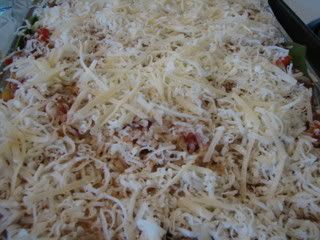 50 minutes later, I took it out and this is what it looked like – Yum!
I had one big slice ~ look at all that cheesy & "vegetable-y" goodness.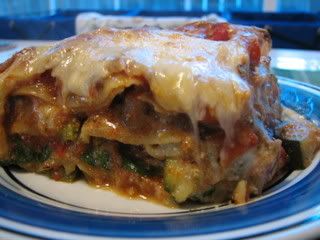 On the side I had a piece of Alexis Garlic Bread. I had meant to make my own using the super cool bread we bought this weekend from Grateful Bread, but, forgot.
And a big salad with Annie's Naturals Raspberry Vinaigrette.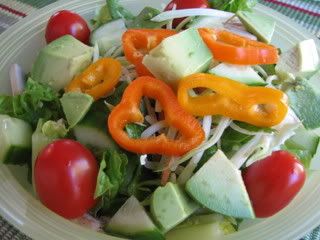 This dinner was so satisfying and filling. However I still made room for dessert and made sure I polished off the remainder of the Trader Joe's Yogurt Covered Pretzels. I LOVE these but probably too much. We managed to eat the entire bag in a weekend 😀