I have to admit that tonight i was a bit spent by the time i got home. I wanted something fast and delicious plus i was cooking the husband burgers. I decided to throw an amy's texas burger on the grill and as it cooked i looked at the box. I swear when i bought these i picked a gluten free one, but, nope, only vegan. It had wheat in it ~ boo! Par for my day of flops (including work being out of decaf coffee this am!) I was hungry so i still had it with all the fixings.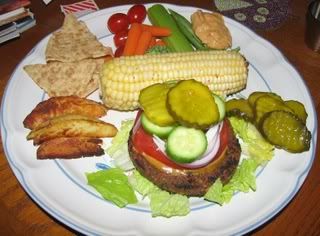 Circle around the plate and look at all the crunchy fun i had with dinner. More veggies from the veggie tray plus sabra (love!) Roasted red pepper hummus for dipping, a few lundberg sea salt chips (more on these later), corn on the cobb topped with vegan whipped butter & freshly ground pepper, cucumber chips and my favorite home fries. I actually made these for dh but stole a few from his plate for my picture. He teased me about "decorating" my plate to take a picture J at least he thought it was cute.
Home fries are the easiest thing to make and once you do them this way, you will never turn your oven on again. Simple scrub your favorite potato (i like yukon gold), poke a few holes and microwave for about 4 minutes +/-. Meanwhile, heat 2 tsp. Any healthy oil in a nonstick pan over medium heat. Cut your par-cooked potato in fry shapes. I usually cut it in half, then, slice into big fries. "fry" in your 2 tsp of oil on both sides til crispy topping with sea salt or garlic salt. Enjoy!
Just look at that golden, crispy french "fried-ness". All in about 10-12 minutes cooking time.
I had planned to make the carrot applesauce muffin's that Kirwin made last night, but, didn't have time. They were definitely on tonight's agenda……