I wasn't sure if I would like dinner tonight or not ~ in all honesty, I am not sure if I liked curry or not. When I was little my sister told me if I ate curry it would make me stink so I have always avoided it….Is that true anyway?! You know because everything your sis tells you is, right? 😀 LOL. Tonight's dinner actually did smell fantastic and I couldn't wait to dig in.
I started off with another new 0 Weight Watcher Point soup Cauliflower Soup. I used Brocco-Flower (the cauliflower is GREEN) so it made my soup look like split pea soup.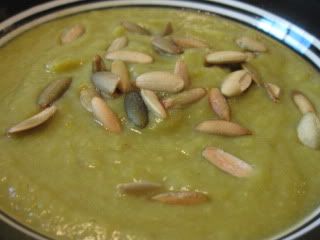 1/2 head brocco-flower (or cauliflower)
1/2 onion, chopped
2 celery stalks, chopped
1 cup coleslaw cabbage blend
2 cloves garlic, minced
~ 3 cups low sodium chicken or veggie broth – enough to cover the veggies
1 tsp Curry Powder
Sea salt & pepper to taste
Roasted Pepita (Pumpkin) Seeds, optional
Add all the veggies to a big soup pan and cover with broth. Bring to a boil and reduce heat to medium simmering for about 25 minutes. Remove from heat and let cool for about 10 minutes. Once cool, blend, dish it up and top it with pumpkin seeds. Makes 4 servings.
This soup smelled and tasted to me exactly like Top Ramen ~ you know the cheapo instant noodles in packs you used to eat as kids but wouldn't think of eating now 🙂 I really was surprised that it didn't taste like cauliflower or cabbage at all.
One Bikini Boot Camp lesson I've learned about me ~ you can add nuts to anything and I'll eat it. I am amazed how much flavor just a small sprinkle of nuts gives things.
While the soup cook, I prepped my next indian flare meal ~ Chicken Curry over Whole Wheat Couscous.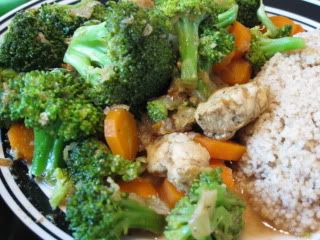 1 Tbsp Extra Virgin Olive Oil
1/2 onion, chopped
1 clove garlic, minced
1 Thumbsize piece ginger, peeled and minced
1 1/2 tsp curry
1 1/2 tsp TJ's 21 Seasoning Salute
2 tsp brown sugar
3 oz chicken breast, cut into 1 inch pieces
2 c chopped broccoli
1 carrot, sliced
Freshly Ground Pepper
Heat oil in a stir fry or nonstick pan over medium heat. Add the onion, garlic, ginger, curry, 21 salute season and brown sugar. Cook for about 2-3 minutes or until the onion is soft.
Add in the chicken and continue cooking 5-7 minutes or until the chicken is done.
Add your veggies with 1 c of water reduce heat and cook for about 10-15 minutes until the veggies are tender and sauce remains.
Makes 1 gigantic 7 Weight Watcher Point serving.
I served mine with 1/2 cup whole wheat couscous to soak up all that sauciness (yes, it's a word!)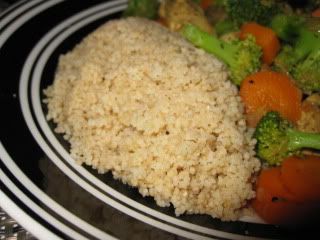 I really enjoyed this dinner and believe it or not, curry is pretty darn tasty to me. I LOVE the fragrant smell it has when you cook and the spicy kick it gives to you food. The brown sugar added a hint of sweetness to go with the salt. Here was my super tasty, vegged out meal. This is why I LOVE stir-fry's – you get a ton for hardly any calories/points.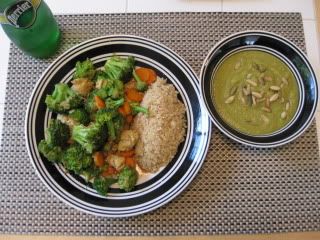 Our fridge is coming tomorrow morning ~ Yahoooooo!!! I am sooo excited, I can't wait. The Husband and I ran around tonight getting a water line set up so we can use the built (inside the fridge) water dispenser and of course ice cubes. I will be sure to take lots of pictures to share – yeah!
Alright ~ off to catch up on comments and a few blogs before I hit the hay!