I made the Dark Chocolate Clusters that were featured in the February 2009 Vegetarian Times magazine tonight. They are soooo easy to make and only 88 calories each. They are Vegan & Gluten Free. Here is how they turned out: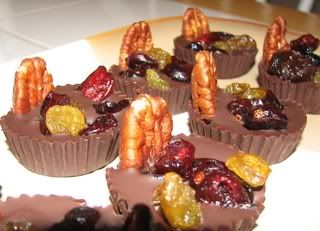 My version included:
1 3.5 oz Trader Joe's 73% Super Dark Organic Dark Chocolate
Trader Joe's Berry Blend (Blueberries, Cherries, Cranberries, Golden Raisins)
Toasted Pecans
They are like having super chocolately covered fruit with toasted nuts – SO GOOD! Ok, back to The Bachelor Finale…..See you all tomorrow.