Happy Easter all! We woke up to some great news this morning – our good friends are about to be parents today – how fun that their baby is going to be an Easter baby.
I had some Buttermilk in the fridge to use up from when I made Rachel's birthday cake. I used it this morning to make these Clear Conscience Waffles from EatingWell.com. I followed the recipe exactly except I added cinnamon and I substituted Organic Maple Flakes for the sugar. I LOVE Maple Flakes not just for their awesome taste, but, because they have half the calories of sugar. Plus they are a healthy alternative if you are trying to get the "white" out of your diet. I have bought them from igourmet as well as in bulk from amazon.com.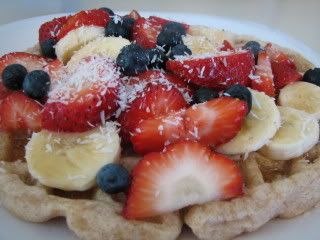 I topped my waffles with:
2 teaspoons of whipped butter
1/2 banana
3 strawberries
About 2 Tbsp blueberries
A small sprinkle of organic unsweetened coconut
1 Tbsp drizzle of Maple Syrup
I LOVE that one serving is the entire 4 waffle square (or circle in my case since I used a Belgian Waffle Maker). These were light/fluffy, but, filling. All in all this meal was 480 cal, 8 WWP and worth every bit. I enjoyed it with some decaf Cinnamon Hazelnut coffee (not pictured)
I am not sure what we are up to today, but, I know I am going to be planning out our meals/shopping, fitting in a great run and cooking up some fun new recipes to share. I think a movie might be on the agenda too since we didn't see it all on Friday night.
Enjoy your Sunday and I hope you all are having awesome weather like we are – it's absolutely beautiful outside and the doors/windows are open already.