Tonight's plan was to make chicken burritos that included avocado. I swear all you have to say is that it has AVOCADO and I am there!
I started off by taking two chicken breasts and sprinkling them with McCormick's Creole (Cajun) seasoning, the juice of one lime and a little nonstick spray. I threw them on the grill to cook while I prepared all the toppings.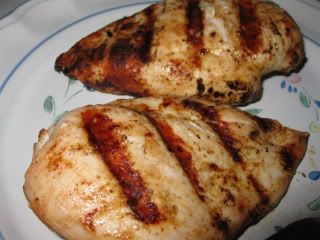 Here are the toppings we made up for our burritos.
A small handful of chopped cilantro.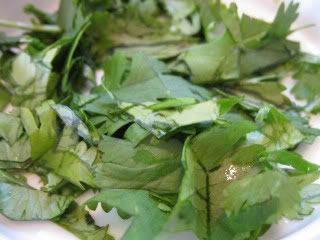 One ripe organic Roma Tomato, chopped.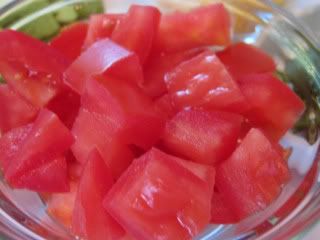 One ripe organic AVOCADO sliced.
TJ's Lowfat Mexican Cheese Blend.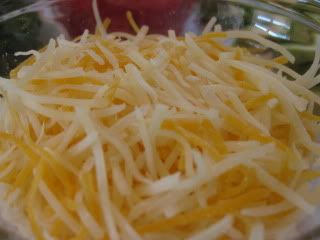 Rosarita Fat Free Green Chile Lime Beans heated up on the stove.
I actually meant to have the TJ's Tomatoless Corn Salsa as well, but, forgot to pull it out of the fridge. That would have made these fabulous. I remembered after I put hot sauce on my burrito *sigh*
Now the fun begins ~ putting your burrito's together.
Start with your tortilla and layer on your beans (about 1/4-1/2 c), then a couple pinches of lowfat cheese.
Top with your grilled chicken – I used about 4 oz.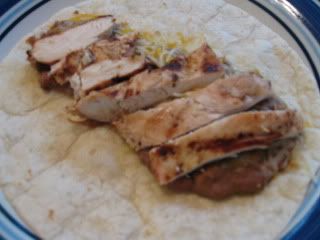 Then, layer on the avocado, tomatos, salsa (if using it) and cilantro.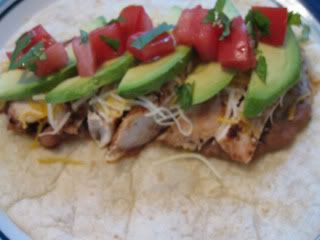 Super fast, easy and pretty tasty. I had 1 cup of watermelon on the side for dessert (I cut this up while the chicken cooked too!)
I am pretty wiped out about now! We played hookie from our friends dinner tonight in order to eat something healthier – sorry – but, it's true 😀 I am off to watch a movie and play in a "online free poker tourney" with The Husband ~ Yes, we are multi-taskers like that. How else would we get everything done?!
Have a great night all and an even better Mother's Day! Don't forget to "treat" your mom to some FREE FROYO tomorrow at TCBY!!