Happy Friday all! I am so excited that the weekend is almost here. Tomorrow we have a fun day trip planned with my family for our Mothers/Fathers day gifts my sis and I are giving to our parents. We are taking them to lunch & dinner & Safari West! I cannot wait to go…..
I am a firm believer in eating what you crave. I find that if you don't, you will feel deprived and eat a million other things instead trying to satisfy that craving. This morning I woke up craving healthy stuff ~ Yeah for that!
Berries n "Cream"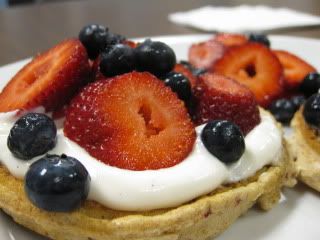 2 Kashi Strawberry Flax Waffles
1 container TJ's 0% Organic Greek Vanilla Bean Yogurt
5 big organic strawberries, sliced
handful of blueberries
All toasted up and topped with vanilla bean "cream" ~ this tastes so much better than any whipped cream you can get out of a can or container.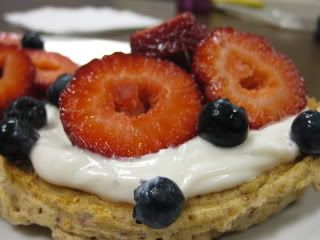 With the extra fruit that I couldn't fit on my waffles on the side.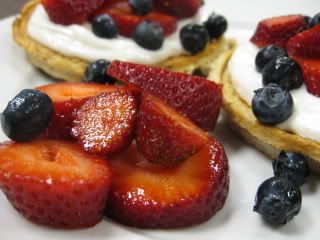 K had asked one time if the Trader Joe's 0% Organic Greek Vanilla Bean yogurt was thick like regular greek yogurt. I think so – check it out sticking to my spoon upside down!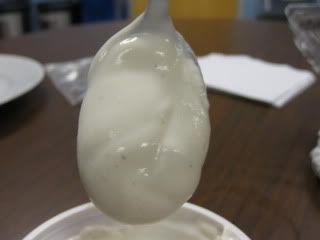 Today was Farmer's Market Friday again at work. I already have enough fruit for the day so I picked up some of the fantatic Pumpkin Bolani Bread ~ I had 3 or maybe 4 of these wedges for my AM snack – LOVE them!
Ok ~ I know you all cannot take the suspense anymore!! It was such a tough decision to make – seriously I LOVED each and EVERY comment that you all made for why you'd LOVE the have a lowfat donut! Thanks for all the laughs. I couldn't make the decision on my own so I asked The Husband and two co-workers to pick their favorites. We had a consenses on 2 winners with 1 winner having one more vote than the other.
The winner of the THREE BOXES OF HOLEY DONUTS is: …….Marisa at Trim The Fat! Check out the hilarious poem she wrote up:
I have been wanting to try these for a while now! I subscribe to their newsletter and I'm adding them on facebook. I really want to try these, so here's my best effort at being "creative"…
ODE TO A DONUT
Oh, Holey Donuts, you make me drool
If I could win you, it would be so cool
The coconut, the cinnamon, the caramel crumb
How is it possible to eat just one!
I'm happy you're lowfat, that is for sure
There is no sweet craving that you won't cure
So, here is my entry that screams, "please pick me"
When I get you, I'll remember "moderation" is key:)
You know I want these bad!!! LOL!
Congratulations Marisa!!! Please send me an email with the THREE boxes of Holey Donuts that you want to try out. No worries if you didn't win all the Holey Donuts still want to give back to my readers! Just enter the coupon code "4FREECB" when you check out and you will get a FREE box of Holey Donuts gigantic reduced fat Cinnamon Buns!!!
That's a whole lot of YUM for FREE!
Thanks again everyone for playing along! Have a Fantastic Friday! I am off to spin class and lunchtime is going to involved one of my new Peanut Butters from Janetha!