For lunch today we headed out to the Farmer's Market that is now open by work – yeah! I seriously LOVE Farmer's Markets as you will soon see – I got to about 2-3 a week and more if I could. I had to share with you all some of the great things my co-worker and I bought.
1st stop – my favorite farmer that I see at all 3 markets. He always has the sweetest fruit and the best prices. I bought an entire large basket of cherries for $5.
And 3 containers of picture perfect strawberries.
Great look tomatoes – I think Rachel is going to use them to make my Tomato Basil Soup!
Some Fabulous Whole Wheat Pecan Swirl Bread – think of whole wheat sandwich bread with sweet cinnamon roll swirls and pecans inside.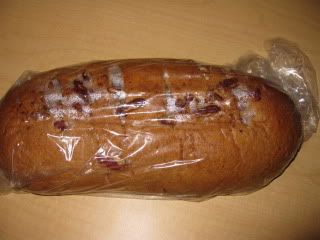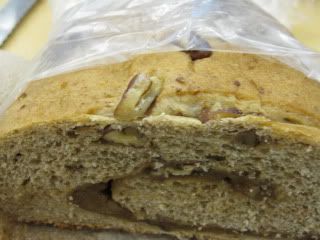 The nutritional stats are not bad at all either – check out all the clean ingredients you can recognize and 4 g of fiber per slice. I plan on slicing this up and freezing it for a nice sweet bready treat.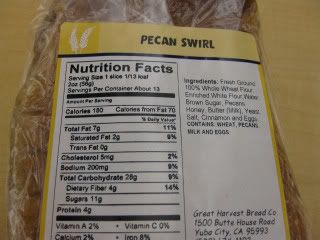 I also decided to get a treat for The Husband to say thanks for being our car pooling buddy yesterday~ A German Chocolate Cupcake!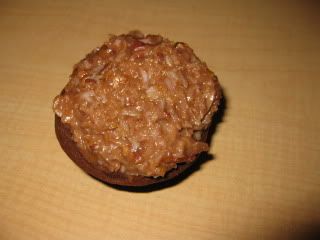 My ABSOLUTE favorite stop every year is at the Bolani Bread Stand. I LOVE the guys who work their and sell the stuff. They are always so sweet in giving you samples galore and free stuff! Plus, hello, their products are amazingly good. I know once you all see the nutritionals, you will want to buy some!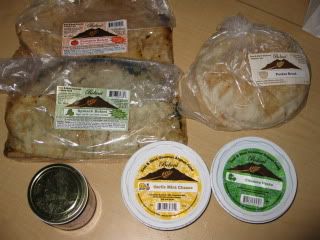 The Spreads – Amazing! Cilantro Pesto, Sweet Jalepeno & Creamy Garlic Mint made with greek yogurt – you put each of these on top of your bolani bread and it gives you a mouth full of fun flavors!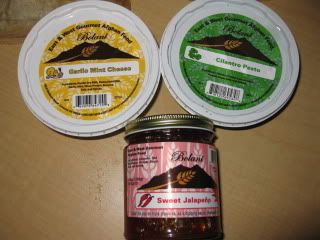 Now, this is the cool part! Check out the nutritionals on their breads – VEGAN – woohoo!
The Spinach Bolani is their classics – This entire bag contains 4 servings at 62 cal, 1 g fat and 4 g fiber – 1 WWP for 1/2 of the full circle – YUM! The ingredients are so simple and natural – you have to LOVE that!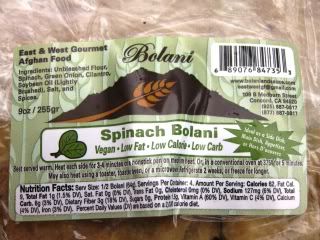 But, I really LOVE their Pumpkin Version too – 1 WWP as well – yeah!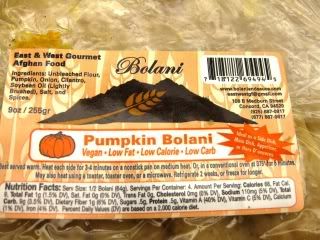 If your local farmer's market doesn't have a Bolani Bread and Spread Stand, you can click HERE to order their stuff online. Whole Foods is also now carrying their products too so look for them in the fridge section.
Believe it or not, we bought all that in about 20 minutes! We did some more shopping before we came back and made up a fabulous lunch.
Since this post is so long already I will post the recipe and lunch separately. Lots of fun reading today! LOL.