I guess I never realized that free fruit at a gym wasn't common until you all commented on it today. They usually have a big basket of fruit that the local farmer's drop off each day and you get to take one piece. I LOVE it for times when you are starving after a workout. I ended up eating the fuji apple I picked up while at the baseball game.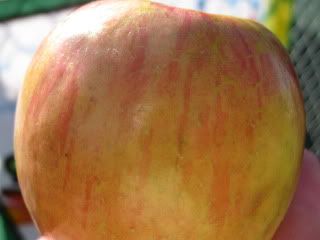 Amazingly crisp and it totally held me over until our dinner at 8:40 tonight. I am so glad that dinner was an quick and easy meal because I was short on time.
We started out with a Mushroom & Spinach Soup that doesn't look pretty but it was tasty. I didn't puree the spinach and mushrooms so we had some nice chunks in the soup.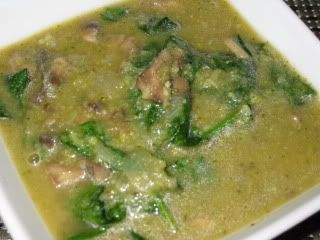 I liked the soup last night better, but, this still was very filling and it's 0 Weight Watcher Points. Get the recipe for this soup by clicking HERE.
Next up was the Fast Shrimp & Zucchini Stir Fry! I have to say this was absolutely amazing and I WISH the recipe called for more than 5 shrimp per person. It is a definite keeper and one I'll repeat as a trade off from my Shrimp Scampi. Sorry for the not so good presentation – I was in a hurry.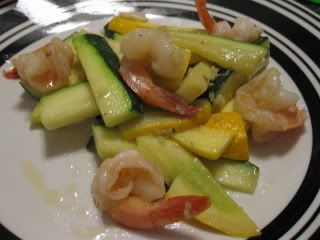 2 Tbsp Extra Virgin Olive Oil
1 tsp minced fresh ginger
1 large garlic clove, minced
2 zucchini's (1 yellow & 1 green), thinly sliced
10 large shrimp, cleaned, deveined and butterflied
2 Tbsp white wine
a pinch of crushed red pepper flakes
Sea salt & pepper to taste
Heat the oil in a large skillet over medium-high heat. Add the garlic and ginger and cook for about 1 minute. Add the zucchini, shrimp, wine, crushed red pepper, salt and pepper. Cook for about 3-4 minutes or until the shrimp are opaque. Tadah!!! That's it.
Makes 2 servings, (4 WWP each)
Here was dinner all together with my favorite fizzy water, Perrier.
Tonight I had dinner and it rocked! A Baked Apple that was very Apple Pie Like ~ adding some walnuts to this would have been awesome.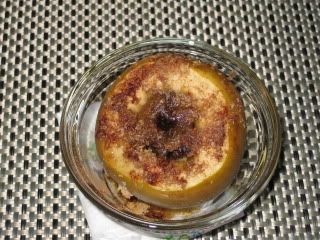 Core the apple, but, not all the way through, leaving about an inch in the bottom. Peel the top 1/2 inch, sprinkle with a little lemon juice to prevent browing and stuff the top with raisins, brown sugar and a sprinkle of organic unsweetened coconut. Bake at 350 for about 30 minutes and it's done ~ (3 WWP).
Alright, I am off to journal and get to bed so I can get up early and start all over again. I will give you a recap in the AM of day 2.