I'll admit it, tonight, I was completely tempted to bail out on my Jump Start Plan and opt for something easier. But, when you think about it, is it really easier/faster to drive somewhere to pick up something pre-made. Couldn't you just go home and cook a healthy dinner in the same amount of time?
The good "Danica" side of my head said this is exactly what I NEEDED to do and I DID! I present to you my 30 minute meal that was honestly quite tasty.
Fun Fiesta Grilled Chicken Salad


4 oz cooked, grilled chicken (I sprinkle mine w/garlic salt, pepper, nonstick spray)
2 cups Organic Romaine Lettuce, chopped
1/4 cup Organic Chopped Red Bell Pepper
1/4 cup Organic Chopped Perisian (english) Cucumber
1/8 chopped avocado
4-5 organic cherry tomatoes
~ 2 Tbsp TJ's Tomato-Less Corn Salsa
~ 2 Tbsp Creamy Hummus (adding Roasted Red Peppers to this would be awesome!)
~ 1 Tbsp chopped cilantro
Salsa Vinaigrette
1/2 cup of your favorite salsa (good salsa is key here)
1 1/2 Tbsp Extra Virgin Olive Oil
2 Tbsp Balsamic Vinegar
Blend together in your Magic Bullet, food processor or blender until creamy.
Drizzle over the fabulous salad you just created above.
I highly recommend you checking out this salsa ~ I LOVE the spicy crunch of TJ's Tomato-Less Corn Salsa.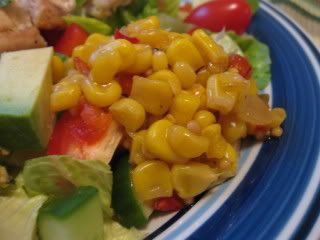 And making your own hummus versus buying it ~ the difference is amazing (although I seriously heart Roasted Red Pepper Sabra Hummus!)
All together with some sparkling Perrier Water.
The Husband LOVED this dinner too – he gave it 10 stars out of 5 (LOL – is that even possible?)
I was able to bribe him into the dishes while I got the stuff ready for the contest I am about to announce. I used the Circus Animal Cookies we got from Food Buzz (1 cookie for 3 dishes) LOL….but, I couldn't resist participating in the fun too.
Coming up next…the giveaway you all have been waiting for ALL day long! It's going to seriously rock!