My BBC Dessert tonight was fantastic and it only takes about 2 minutes or less to make. Simply preheat a nonstick "dry" (no oil or water) pan over medium heat. Add your banana that is sliced in half vertically and cook until blackened. While your banana cooks, heat 1 Tbsp of your favorite caramel sauce in the microwave for 10 seconds. Remove your banana and top with caramel.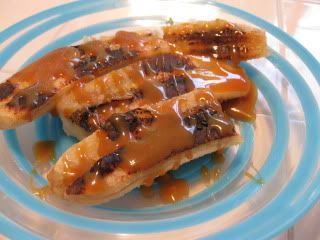 This entire dessert is only 3 Weight Watchers Points – yahoo! I actually debated licking the plate.
The Husband tested out the 3 Minute Chocolate Mug Cake that I made for him today.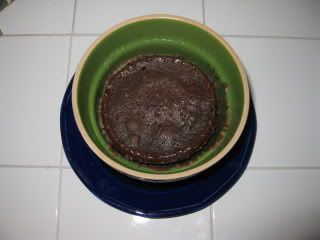 Topped with some whipped cream that was left over from my guest post recipe!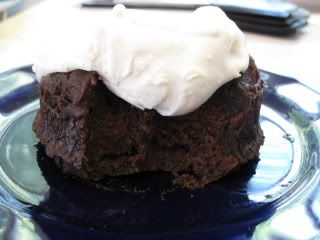 The verdict ~ he liked it! I did try a small bite and it reminded me of a dark chocolate vitatop but with the density of a brownie/cake almost. I cooked it in a bowl instead of a cup because I didn't want it ot overflow. It was fun to make a cake in 4 minutes flat!
Ok all ~ 3 GIVEAWAYS to check out:

* Emily is having another MixIt Granola Giveaway ~ click HERE to check it out.
* C.G. Foodie is having a Goddes Giveaway ~ click HERE to check it out.
And last but not least, today is your last chance to enter to win a FREE Copy of the Bikinig Bootcamp Book. Click HERE for the details.
Have a great night all!