Hola, Como Estas? Muy Bien, y tu? Just kidding…..I won't torture you all and do my whole post in spanish. Wow, I wonder if I'd even remember enough from my 4 years of spanish and 1 month in South America to be able to type it……
I was soooooo excited for my breakfast this morning and couldn't wait to dig in. It wasn't anything fancy, but, it was absolutely awesome!
It started out with one of my new TJ's 0% Greek Yogurts – This time I picked Vanilla. I was soooooo happy when I saw it had actual vanilla beans in it ~ check out all the vanilla bean goodness.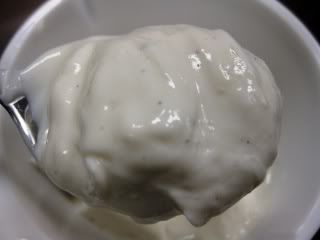 Next, I added a small sliced organic banana and 3/4 cup of TJ's Lowfat Granola with almonds – seriously who doesn't LOVE granola with almonds.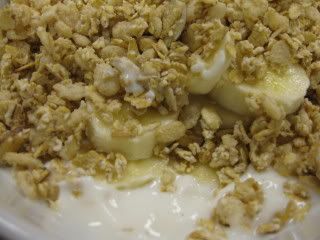 Every bite was seriously like having dessert – this is one of my absolute favorite Biggest Loser 30 day Jump Start Breakasts yet!!!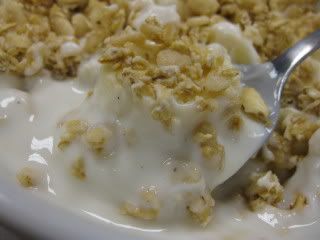 I washed it all down with some Cinnamon Vanilla Nut Decaf Coffee that I got at Target – seriously this stuff is amazing even for coffee snobs like me 🙂 LOL. And of course, my new Nathan Spill Proof Bottle!
TODAY'S FUN NEWS:
* Be sure to enter My Annie's Mac & Cheese Giveaway ~ Click HERE to enter.
* Holey YUM Alert! Prior Fat Girl is having a Giveaway for some more of those fabulous "healthy" donuts I keep seeing around everywhere. I need to get some of those donuts LOL. Click HERE to check it out!
* Fitnessista is also having an amazing Raw Cookbook Giveway and she is throwing in some of her fabulous raw Macaroons to the winner. Click HERE to enter!

It's Biggest Loser night too – yahoo! I asbolutely cannot wait! Tonight is the last show before the finale and we get to pick the top 3 contestants – go GREEN!!!!
I have to ask ~ How many of you have your cell phone ringers set to "Tequilla" for Cinco De Mayo???