I hope that each and everyone of you have a fabulous "Mom's day". We are all Moms in one way or another as Janetha pointed out to me the other day. I am a Mom to our adopted Kitty and a Mom to my Hermit Crabby ~ Hermie! LOVE them both!!!
It sort of feels wierd to not be spending the day with my MOM, however, my sis and I decided to combine Mother's day and Father's day together in June. We are taking them out for a day of fun starting with lunch then to tour Safari West. I am sure dinner and other fun stuff will be included too – so fun, I can't wait!
The Husband's Mom is really thoughtful. She works at a Convalescent Home and each year for Mother's (and Father's day too) she makes up something super cute for each person. We have helped her deliver them to everyone in the past before the nephews decided it was their job. 🙂 She made up little jewelry boxes for each of the ladies. How cute are these.
These started out as those blank wooden boxes you see at the craft store and she hand painted/decorated over 50 of them.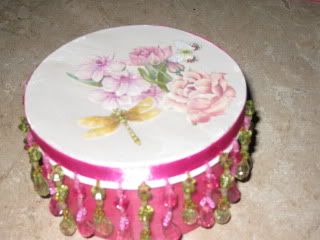 So neat! Yup Beave, just like Wally used to say! 😀
Ok ~ onto breakfast. This morning I decided to make up a fabulous Egg White Scramble.
~ 1-2 Tbsp diced onion
3 egg whites (or 3 pours of liquid egg whites)
1 Tbsp parmesan
Splash of hot sauce, sea salt & pepper
2 Tbsp sliced cherry tomatos
3 basil leaves from my new plant, chopped
Start off by heating a splash of olive oil or nonstick spray over medium heat. Add the onion and cook about 2 minutes until soft and slightly browned. Add your eggwhite mixture (eggwhites, hot sauce, parmesan, salt, pepper). Cook for about 30 seconds then add your tomato and basil – tadah! So tasty for 2 WWP – the cost of 1 egg. You could omit the parmesan for a 1 WWP dish.
On the side, I had 2 Jennie-O Lean Turkey Sausages ~ they were eh, ok. I prefer my homemade version and this reminded me a little of dog food.
Plus a slice of Ezekial Sprouted Multi-Grain bread, toasted.
And 1/2 of the best orange ever – so sweet, so juicy! I now know why The Husband kept telling me that the 10 lb bag we bought wasn't that good. He wanted them all to himself! 😀 He admitted that this morning LOL.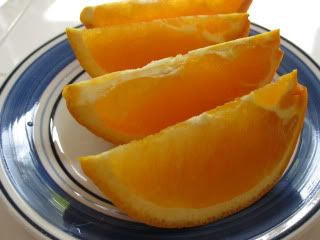 Quick Recap for yesterday ~ Ok, I have to confess – I didn't work out at all yesterday but I also didn't sit down until 830 last night. So, maybe it's a trade or not, but, I will make up for it today for sure.
Calories burned: 2,821
Steps taken: 11,533
Calories Consumed: 1,490
Today is another busy day checking things off my list. I feel like my list always grows – check on 2 things, add 4 more. Oh well – it's more calories burned, right?!
I am sure I will be trading my afternoon 1 c of Edamame for the TCBY Fro Yo because afterall they count as the same, right?! I'll be sure to let you all know.
Have a Sensational Sunday and make sure to have fun with your mom or mom's! Catch you on the flip side!