Tonight I decided to take a recipe my sister gave me and give it an even healthier make over. I made a total comfort meal that included Italian Turkey Meatloaf, Garlic Mashed Potatoes and Swiss Chard. I made the recipe over a little by using 99% lean ground turkey, lowfat cheese, and whole wheat bread crumbs. I could have taken it one step further and used 1/3 cup liquid egg whites for the eggs but forgot about that until after it was made up.
There is one other thing I forgot to consider. My sis is always cooking for her huge family and I probably could have halved this recipe. I will definitely be putting some in the freezer and maybe making a meatloaf sandwich with it ~ yum!
Italian Style Turkey Meatloaf
2 pounds lean ground turkey (I used 99% lean)
1 cup fine Italian-style bread crumbs
1/2 cup ketchup
1 cup grated low fat mozzarella
1/4 cup shredded parmesan cheese
1 cup finely chopped onion
2 cloves garlic, minced
1/2 cup chopped parsley or basil
1/2 Tbsp dried Italian Seasoning
1/2 teaspoon salt
1/2 teaspoon pepper
2 eggs, lightly beaten
2 cups pasta sauce (I used this one)
1. Heat the oven to 350 degrees. Oil or spray a large jelly roll pan or a roasting pan and set it aside.
2. Combine all the ingredients except the pasta sauce in a large mixing bowl. Using your hands, toss the ingredients
lightly to evenly distribute them, then knead the mixture well.
3. Transfer the mixture to your baking pan shaping it into a loaf about 12 inches long and 5 inches wide. Bake it for 40 minutes, then remove it form the oven and spread a cup of pasta sauce over the top. keep baking the meat loaf until it is cooked through, about 35 minutes more. Allow the loaf to sit in the pan for 15 minutes before slicing it. Serve it with more pasta sauce, if desired.
Makes 8 or more servings.
** I used a cookie sheet and shaped it into a loaf by hand it actually makes about a 15 inch by 5 inch loaf. Here it is going into the oven: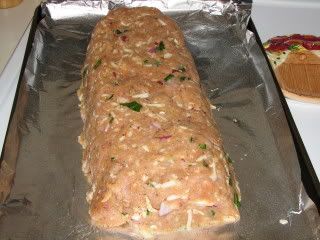 And coming out of the oven all toasted and coated with a fabulous Balsamic Eggplant Pasta Sauce that I got at a Christmas sale this year.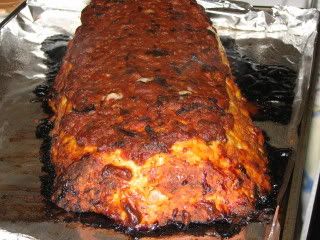 I ended up having 1 1/2 slices, although, I think I probably only needed one. I was still a bit hungry after eating, I waited then decided I want more. However, I think my brain is slow at communicating to my stomach, because, now I am stuffed 😀
I took a short cut tonight and used Trader Joe's Garlic Mashed Potatoes. These honestly taste like the real deal and you cannot even taste that they are instant. The Husband always polishes them off and requests them so that says something for how tasty they are.
I filled half my plate with some steamed organic swiss chard that was topped with a little whipped butter, garlic salt and pepper ~ so good!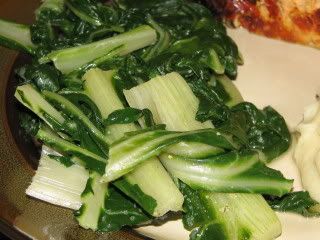 All together with my Tangerine Juice Sprizter and this was honestly a total comfort food meal made over to be healthy.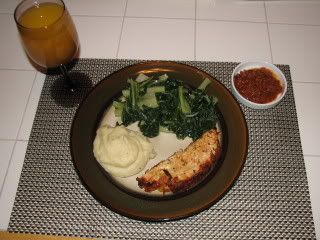 I am off to finish watching The Biggest Loser! Catch you all in the morning when the week is officially 1/2 over – yahoo!