The Husband teased me at work today saying I had a big package at home that I was going to LOVE but he wouldn't tell me….I had to wait until I got home. When I walked in the door I bolted for the kitchen to find this.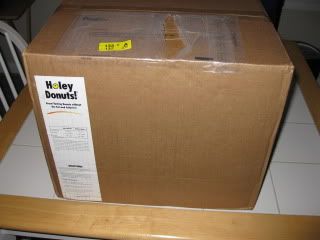 Ever since I went to Rachel's Donut Party, I have been wanting to try my OWN Holey Donuts! I opened the box and found not 1, but, 4 boxes of healthy donuts!!! I LOVE you Holey Donuts People ~ Thanks so much for sharing the love!!!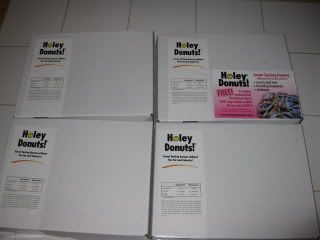 Do you all see that cool little flyer on my boxes? Pay close attention because I guarantee this is something you will want to order. When you place your order, enter the code " 4FREECB" and you will get 4 gigantic reduced fat Cinnamon Buns for FREE!!!

I didn't know what each box had so it was serioulsy like my birthday opening each donutty (yes, it's a word!) package! The first box I opened had their amazing Reduced Fat Cinnamon Buns (that you can get for FREE! see above in red). These were my absolute favorite at the Donut Party.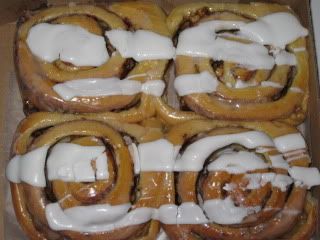 Box #2 was an assortment of Lowfat Chocolate Crumb, Vanilla Crumb and Caramel Crumb Donuts.……mmmmm!
Box #3 was none other than their famous Lowfat Lemon Donut Holes – they look so amazing everytime I see them!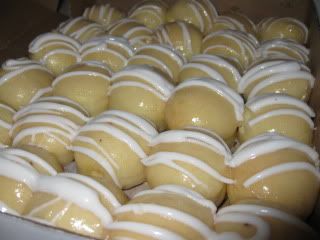 When I opened Box #4, I squealed with delight like a little kid smiling from ear to ear. OMG ~ Can you believe how amazing all these flavors are?! This is their Celebrity Assortment and The Holey Donuts Peeps made me a celebrity today! Apple Graham Cracker, Boston Cream Oreo Cookie AND Raspberry Vanilla Truffle.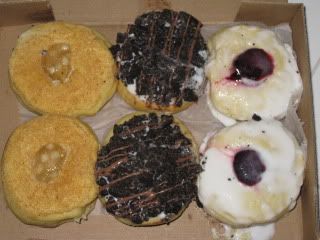 How is a girl supposed to choose which donut to have first?! I am ALL about fruit and vanilla anything so the Raspberry Vanilla Donut quickly hop on my plate and in the microwave for 30 seconds.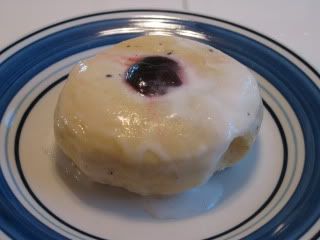 Check out ALL that raspberry goodness just oooozing out everywhere! This ENTIRE DONUT is only 4 Weight Watcher Points (217 calories, 4 g fat, 1 g fiber) and get this – it only has 16 g of sugar ~ 4 Teaspoons. You'd never guess it was a "healthy" donut by the flavor – it's so rich and donut like – the only way you can tell is you don't have grease on your fingers (which is definitely a good thing in my book!)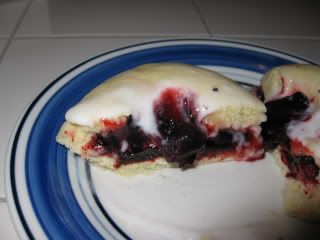 When I took my first bite, I forgot about everything that happened in my day! This is by far THE ABSOLUTE BEST DONUT I've ever had in my entire life!!! The dough is so soft and chewy with the sweet raspberries and the creaminess of the vanilla frosting glaze. I cannot think of a better combination.
I also decided to "pop" one of the 42.5 calorie Lowfat Lemon Holes. You get 4 of these bad boys for only 3 Weight Watchers Points – 1 is .75 pts – woohoo!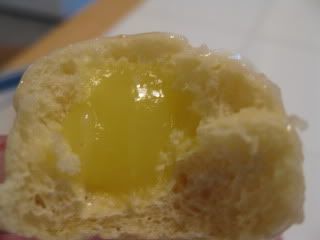 I have to admit this batch tasted ALOT better than the Donut Party ones. They were super soft and donutty – you could taste the lemon followed up by a hint of the vanilla frosting.
Here is the COOL part of my dessert ~ I had an ENTIRE Raspberry Vanilla Donut plus a Lemon Donut hole for 5 Weight Watcher Points, 260 calories and 4 g of fat. How awesome is that?! All the fun, flavor, decadence without the fat or guilt!
The best part of these donuts is that they work with my freezing fetish – you can wrap them up and freeze them to take them out one at a time. That right there is built in portion control – you don't have to worry about having 4 boxes of donuts sitting around spoiling because they are in your freezer waiting for you.
More reviews with the points/calories and a big review when I've tried all flavors coming soon ~ Thanks again Holey Donuts! – You all made my day, week, month!