I made up the BL 30 Day Jump Start Frosty Pumpkin Smoothies this morning to go with my Sonoma Crisps Apple Sticks this morning. I have to admit I am a little leary of pumpkin smoothies but the ingredients made it sound amazing. Click HERE for the recipe if you are interested.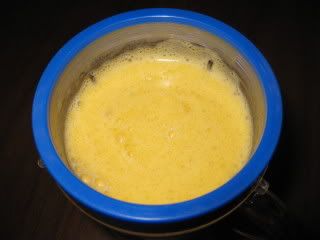 The smoothie was absolutely awful! It tasted just like, well, sweet pumpkin. I think liking pumpkin pie might have made me like it better. The Apple Sticks completely saved the day ~ I ate this entire pile of 70 calorie Apple Fries ~ Delish!
After managing to drink about 1/2 my smoothie, we headed out for another 4 mile power walk. It was soooo hot outside today! I definitely can't wait for the $1 a day gym special – I hope the local gym has it again this year. When we got back, I made up a Lime Tuna Salad.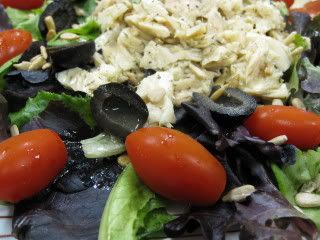 1 can Albacore White Tuna in water, drained
Dashes of dill, garlic salt & freshly ground pepper
1 Tbsp Newman's Lite Lime Vinaigrette (LOVE this stuff!)
~ 2 cup organic baby lettuce
1/2 c cherry tomatoes
4 black olives sliced in half
1 Tbsp sunflower seeds
1 Tbsp drizzle of Newman's Lite Lime Vinaigrette
The BL Jump Start actually had 5 oz of grilled Halibut but since I didn't have any on hand, I went with Tuna. It was a pretty tasty salad, but, I missed adding in the celery, onions, peppers, etc to the tuna – it really needed more low cal bulk up items. I added 8 oz of FF milk to round out the meal on my fancy new plates from my rockin' friend!
For "dessert" my co-worker talked me into first taking a picture of these cute penguins (that's what I get for being a sucker for penguins!)
Then, into actually trying them! I don't know about you, but, I am not a fan of gummy things that pop and squirt nasty stuff in your mouth ~ bleh! I am glad that it took my curiousity out of the way because since TJ's sells them I might have been tempted to buy them.
My all too exciting news of the day ~ I finally caved and agreed with my co-worker to finally buy/split some HOLEY DONUTS! Who doesn't LOVE a donut (honestly – even clean eaters do even if it makes you feel bad!). These donuts ARE HEATLHY & LOWFAT. Just check out the pictures of them by clicking HERE. I have been trying my hardest to win some of the other blogger giveaways for these donuts, but, with no success. I couldn't take it anymore – I had to buy them!!!
Here is the super cool deal you can get~ If you place an order BEFORE this Saturday at Midnight (Eastern), they will give you 30 FREE Low Fat Cinnamon Glazed. Choose your selections, then at checkout enter the code "1bxfre" in the promo box, then hit "recalculate" to get your 30 free delicious low fat donut holes!

If donut holes are not your thing, then, get yourself a FREE SAMPLE OF SUN BUTTER. Simply click HERE and enter "0428" to have your sample sent to you.
I am off to get in workout #2 before I test out two new Kashi Pizzas!!! I'll be posting a review about them later on for you all to see ~ mmmmm, Pizza, I can't wait!