Happy Saturday all! I was up early and ran a few errands this morning while The Husband slept. On my way home I stopped to pick up a Starbuck's ~ tall, nonfat, decaf latte with a little caramel drizzle on top of the foam (105 calories of goodness!). Plus, it counts as a serving of dariy so I can check off one of my daily requirements ~ yahoo!
I decided to make Egg Sandwiches for us for breakfast. I pulled out a couple of the Home Made Turkey Sausage Patties I made awhile back from the freezer. I will post the recipe below so you can make them too. I love to make up a big batch and freeze them – then you just grab them whenever you want.
I used a Thomas Double Fiber Honey Wheat English Muffin (1 WWP), plus 1 egg white (0 WWP), plus 1/2 piece lowfat white cheddar (1 WWP) and 1 Turkey Sausage (1.5 pts). Not bad for 3.5 WWPs compared to 10 WWP for the non healthy version. I could have probably used more than 1 egg white (3 are 1 WWP) to make it thicker…maybe next time.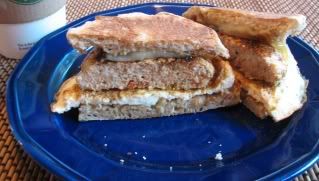 Country-Style Turkey Links
from BL website
I make these on occassion, wrap them up and freeze them so I can grab them whenever I want – they are simply amazing and very clean! Myf avorite is to use them to make portobello mushroom pizzas – using the portobello and my "bread", top with homemade pizza sauce, lowfat mozzarella, tomato, basil, mushrooms, peppers and these sausages. Or mix them in with your egg whites to make an awesome breakfast burrito or sandwich.
P.S. – I make mine into patties, not links.
INGREDIENTS:
1 1/4 pounds lean ground turkey (or chicken) (I use the 99% lean version)
1 cup finely chopped leek (or finely chopped onion)
1/2 cup finely chopped sun-dried tomatoes
2 tablespoons chopped fresh basil or parsley
1 tablespoon chopped garlic
2 teaspoons chopped fresh thyme (or 1/2 teaspoon dried)
1 teaspoon toasted fennel seeds (see note)
1/2 teaspoon ground black pepper
1 tablespoon olive oil
Place all ingredients, except oil, in the bowl of a food processor. Pulse just until mixture is well combined and cohesive. Transfer mixture to a bowl, cover with plastic and transfer to the freezer for 40 minutes, or until the mixture is very cold, but not frozen. There will be almost 4 cups of mixture.
Using slightly less than a 1/4 cup measure, quickly shape the mixture into 16 links, about 3 inches long and 1inch in diameter (or patties about 2 1/2-inches in diameter).
Heat the oil in a large non-stick sauté pan and brown the sausages, over medium heat, turning occasionally, for about 3 minutes. Reduce heat to medium low, cover the pan, and cook, turning the sausages occasionally, until they are crisp and cooked through, about 4 minutes longer. (You may have to do this in two batches.) Drain on paper towels. Serve immediately.
Note: Place fennel seeds in small sauté pan over medium heat. Toast seeds, stirring occasionally, until fragrant, about 2 minutes. Set aside to cool.
Yield: 16 links; eight 2-link servings1 svg – 150 cal, 8 g fat, .8 fib*
* I am sure this is less calories and fat with the 99% lean version, but, this is the nutritional information that came with the recipe.
Today I have a bunch of todo's to get done today so that we can enjoy our trip tomorrow to the Santa Cruz Mystery Spot! We are going to take the nephews I think and I will be sure to post videos and pics.
Catch ya'all later!