Despite my lack of success with cookies today, I decided to go on a cooking adventure tonight and make my version of falafel. I have actually never made it before so I studied up on all the different ways people made it to come up with a version that was both Vegan and Gluten Free. It was so easy to make – it took less than 15 minutes to prep and only 6 minutes to cook. I used up the rest of my butternut squash for "fries" in my quest to clear out the fridge.
Here is how the falafel turned out……

Vegan & Gluten Free Falafel
Ingredients:
14.5 oz can Garbanzo Beans (chickpeas) , rinsed and drained
1-2 garlic cloves, minced
2-3 Tbsp flat-leaf parsley or curly parsley
2-3 Tbsp handful of cilantro
1 small red onion , roughly chopped
1 tsp ground cumin
1 tbsp toasted sesame seeds
½ tsp chili powder
½ tsp dried oregano
1 teaspoon lemon juice
A few dashes of hot sauce
2 tbsp flour (I used gluten free)
Salt & pepper to taste
2 tbsp canola oil
Optional toppings: Serve with lettuce, cucumber, tomatoes, avocado and top with your favorite salsa. I used Trader Joe's Pineapple Salsa. You can also serve this up in a pita for a nice variation.
Drain, rinse and pat the chickpeas dry with a paper towel. Place them into a food processor along with everything else through salt & pepper. Blend until fairly smooth and shape into four patties with your hands.
Heat the oil over medium heat in a non-stick frying pan, add the burgers and cook them for 3 minutes on each side until lightly golden. Serve with the toppings of your choice.
Makes 4 servings
I calculated the NI using sparks.com
Nutritional Information per serving:
Calories 195.9, Total Fat 9.2 g, Saturated Fat 0.9 g, Polyunsaturated Fat 5.0 g, Monounsaturated Fat 1.8 g, Cholesterol 0.0 mg, Sodium 293.6 mg, Potassium 72.8 mg, Total Carbohydrate 21.2 g, Dietary Fiber 6.9 g, Sugars 1.1 g, Protein 6.9 g
This was so incredibly tasty and full of flavor. I tried to combine the flavors of my favorite hummus and the ways I've been enjoying chick peas lately ("Surprise Tacos"). This is a definite keeper and I will be making it again.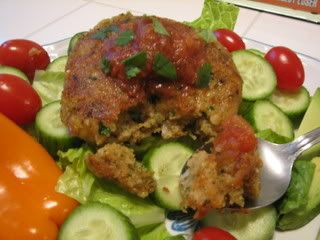 Butternut squash fries…..Yum! I made them thicker this time.

With all the toppings (romaine, cucumber, tomato, avocado, Trader Joe's Pineapple Salsa) and butternut squash fries. I devoured all of it with my sparkling lemon fizzy water.

The Husband liked it as well, but, he continued on with his Vegetarain adventure of grilled cheese with avocado for color (he's funny) and Pacific Foods Organic Roasted Pepper and tomato soup. Yup, those are Annie's Cheddar Bunnies in the bowl and swimming in his soup.

Ok ~ this post was super long, but, totally worth it to share this recipe. I will save my product review for tomorrow to spare you from having to read more :D. I highly recommend you trying this recipe out. It's movie time again and tonight I saved room for dessert!