I car pooled this morning with my co-worker ~ fun! I feel so environmentally friendly now lol. It was actually nice to have someone to chat with as I drove in traffic even though we have pretty amazing scenery on the drive.
When I got to my desk, I had the coolest surprise from "Bernie" the Annie's Bunny at my desk. He visited us for Easter and dropped off a cool new basket of the newest flavors of fruit snacks. Check it out!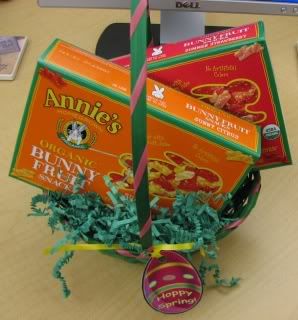 And the super cool "Hoppy Spring" Note that came with it: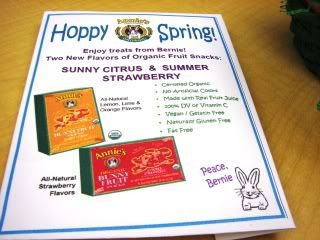 The new flavors are Sunny Citrus & Summer Strawberry. How cool are there snacks to be Organic, Vegan/Gelatin Free/Gluten Free/Fat Free and made out of fruit juice with nothing artificial ~ Yum! I LOVE things like this for when a sweet craving kicks in – I can't wait to try them!
For breakfast this morning, I threw together something fast on the fly that turned out to be delicious. I took two Kashi Strawberry Flax Waffles and topped one side w/ a heaping Tbsp of Almond Butter and the other side topped with Trader Joe's Wild Blueberry (plus pomegranate) fruit sauce. I added in banana and made another fabulous wafflewich.
This absolutely hit the spot as I was starving by the time I got into work. I savored it with some good coffee and will be switching over to my SIGG (another earth friendly thing!) full of water shortly.
Happy Hump Day all! Today is going to be such a fun day celebrating my great friend, Rachel's birthday ~ Happy Birthday girlie!!! It's ok to read now that you know what I made 🙂 lol……We are heading out to eat for lunch today – her choice so I will see you all after that!