5 AM came sooooo early this morning. This was the first morning I actually debated going back to bed, but, I told myself, get up, get going and it will get better as you go. I started off with one of my favorite Shape Magazine Calorie Blasting Walks from July 2007. This 30 minute workout is designed to give you the sculpted legs of a running without running and it's tough (especially if you do not hold on at all!)
Warm-up 0-3 minutes 3.5 mph 1% incline
Speed Walk 3-7 minutes 4.0 mph 3% incline
Power walk 7-11 minutes 3.5 mph 5% incline
Speed Walk 11-15 minutes 4.0 mph 7% incline
Power Walk 15-19 minutes 3.3 mph 8% incline
Speed Walk 19-23 minutes 3.8 mph 9% incline
Power Walk 23-27 minutes 3.0 mph 10% incline
Cool Down 27-30 minutes 3.5 mph 0% incline
After my 30 minute power walk, I hopped right into the Circuit A Exercises in the Bikini Bootcamp book. Tomorrow I'll post the Circuit and Core workouts for you to see. Whew ~ it felt great to check off the two tough workouts this morning. I am saving journalling, meditation and yoga for tonight before bed.
I sipped on a cup of Morning Burst this morning while I got ready and couldn't wait to dive into my breakfast.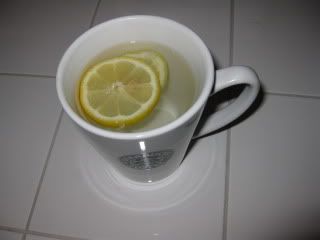 Do you all have any idea how excited I was to see I get to have eggs with salsa?! Today's breakfast was amazing!
1 Tbsp Extra Virgin Olive Oil
¼ c finely chopped onion
1 Tbsp chopped jalepeno
2 eggs
2 dashes of hot sauce
Sea salt and pepper to taste
Topped with Salsa Mexicana
The book said to just top it with tomatoes and cilantro, but, why do that when you have a fabulous homemade salsa in the fridge. This absolutely hit the spot! Just look at how good it looks ~ Yup it tasted that good too!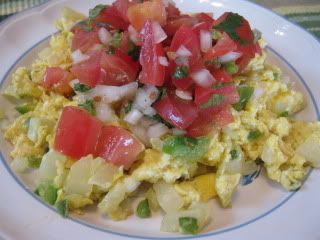 I took a big cup of my Morning Burst to work with me today but you know I am missing my decaf coffee. I am allowing myself one cup today in place of some herbal tea….I miss the FLAVOR of coffee!
TODAYS FUN STUFF:
* FREE samples of Jack Daniels BBQ sauce & Lea Perrins Steak Sauce – click HERE.
* Do you have a Border's near you? Click HERE for a 25% coupon on any item though 06/07/09.
* You all know I LOVE Hungry-Girl – She STILL has me thinking about her recipe on Tuesday for Rocky Road….Click HERE to check it out.
TWO GIVEAWAYS NOT TO MISS:

* Join us in Bikini Bootcamp this month and you could win a FREE copy of the book. Click HERE.
* Check out my Crunchtastic Mr. Krispers Giveaway by clicking HERE.
Today is another busy, but, fun day. If I was really at Amansala in Mexico, I KNOW I'd be getting a pedicure. Since I have missed out on my spa treats this week (no worries, I'll be doing them this weekend for sure), I am heading out to get a pedicure at lunch ~ Can't wait!
Catch you all later!