Today has been a go-go-go type of day! I have to say my day was completely brightened when I came home and saw a GIGANTIC box from FoodShouldTasteGood waiting for me!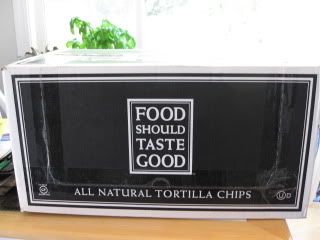 This might just be one of the FUNNEST (yes, it's a word!) taste tests yet. The incredibly nice people at FoodShouldTasteGood sent me a box full of FULL SIZED bags in EVERY flavor to take to my next Weight Watcher meeting. Our meeting gets to do a taste test sampling! Woohoooo!!! How cool is that?!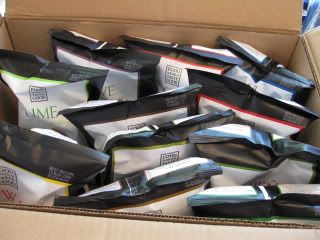 Here are ALL the flavors in that BIG Box:
* Sweet Potato
* Buffalo
* Chocolate
* Lime
* Olive
* Yellow Corn
* Cinnamon
* The Works
* Mult-grain
* Potato and Chive
* Jalepeno
I will probably wait until my NEXT meeting so I can finish the Bikini Bootcamp challenge and get all the supplies needed for taste testing. But, I promise to tell you all about it with feedback and pictures and reviews galore.
In the meantime, check this out. You call can earn your very own FREE case by entering their recipe contest! A new winner is picked each month. Click HERE for details. To help you get started, click HERE to join their fan club and get a $1 off coupon towards your next purchase.
Way to go FoodShouldTasteGood Peeps! I am IN LOVE already without even sampling 😀
Tonight I took the easy way out for dinner! I was so exhausted after my super busy that the concept of cooking just didn't appeal. Normally I am against take out because I can always cook faster, but, tonight it was 100% worth it to not have to deal with it.
The Bikini Bootcamp Dinner tonight was one of my FAVORITE "spa" salads on the program. Click HERE to check it out. I tried to keep this in mind when we ordered from Mary's Pizza Shack.
Lucky for me I did have part of my dinner made up. I had prepared the Butternut Squash Soup with Caramelized onions on Sunday. I served it up with a sprinkle of roasted pumpkin seeds.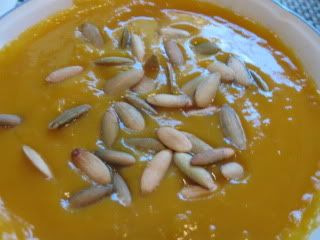 This soup was absolutely fantastic and I am so glad I froze some for later! Leave a comment if you want me to post the recipe and I will.
Next up was the takeout salad that I ordered. I ordered up a grilled chicken salad with italian dressing on the side. This salad was HUGE!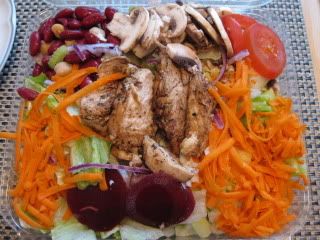 Check out all the great stuff that comes on their salads.
I thought ahead too and saved 1/2 my chicken for tomorrow's lunch – yahoo! This salad was fantastic but I didn't even come close to eating 1/2 *sigh* It was nice to have the night off from cooking so I could get caught up on things.
Quick recap of the FUN STUFF that happened today:

* I won another Giveaway!!! I finally scored some Sonny Joe's Hummus by winning Ashley's Giveaway – yahoo! I have been wanting to try their hummus ever since I heard Sarah say it tastes better than Sabra – is that possible?! I'll be sure to let you all know.
* I found out today that I am going to be able to host a SUPER COOL interview for you all of someone I KNOW you will LOVE! I cannot wait to share it with you all. I will be dropping some hints and links in the next few days to get you all wondering 🙂
* Have you all ever checked out Fit Bottomed Girls? I LOVE their site. They are hosting a pretty cool little giveaway if you are a fan of Dole Fruit Gels. You can score a WHOLE YEAR supply. Click HERE for details.
Ok ~ I think I am officially all typed out! I think that will keep you all busy for awhile. I will catch up with all your comments tomorrow.
Tomorrow is going to be just as busy but I am hoping to be able to stop by and send some daily adventures your way.