Today's theme was to be playful ~ bring yourself back to what you LOVED most about your inner child and being a kid. Ok, BEFORE you go thinking that I LOVED "cutting class" let me explain the title 😀 I managed to make up a total of 9 dishes today, do 2 spa treats and take my fun 1 HOUR Gentle Hatha class. After class, I wasn't feeling the circuits or the core so I "cut class" and jumped straight to relaxing 😀
You were supposed to buy yourself flowers to celebrate 7 days of Bikini Bootcamp success ~ I chose to buy myself a 1 hour Gentle Hatha Yoga Download from YogaDownload.com. It was absolutely amazing….it was like I ringed out all the tension I had going on, got a massage and deep stretching all within that 1 hour. I highly recommend it. Reward #4. I also bought a brow wax for my spa treat (reward #5) since I already received my pedicure on Friday.
I broke for lunch around 2 pm and made up a Curried Chicken Salad with Pumpkin Seeds and Papaya (the same recipe you saw last week). This week they said fish, but, I said NO more! 🙂 Click HERE for the recipe.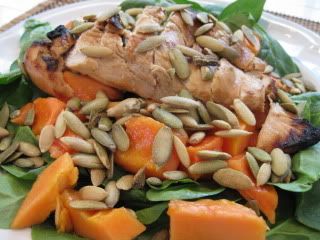 After my yoga session I decided it was time for a couple of spa treatments that they recommend each day in the book. The first one is supposed to make your skin softer. You mash up a perfectly tasty avocado.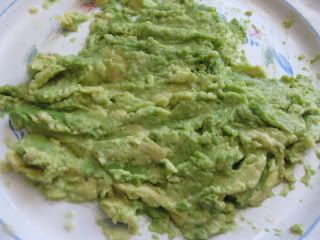 Rub it on your dry areas, I chose my hands and let it sit for about 15 minutes. I didn't think to take off my ring before doing this so it's currently getting a bath too.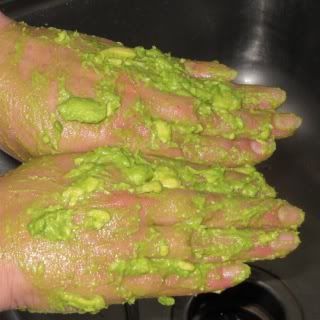 The result ~ it made my hands feel squeaky clean, not sure if they are really softer, maybe, just exfoliated.
Next up was a Papaya Face Mask. The mask is supposed to nourish and moisturize while exfoliating and fighting free radicals. Ok this is probably the ONLY time I'll let you all see me on here with a mustard looking makeup less face.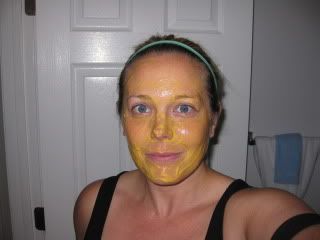 The Husband cracked me up when he saw me with this one on – he was like, why are you wearing all your food today? Normally you only wear it on your shirt – nice, right?! LOL. My face felt super clean and soft after this.
Here is the odd part of this ~ You only set aside 1/4 of the mixture for your mask and the rest becomes your afternoon snack. It was a tasty snack even if it was wierd to eat it LOL.
Dinner tonight was supposed to be a Chicken Stir-fry over Napa Cabbage with Broccoli soup. However, I honestly wasn't feeling too hungry and just wanted some soup. I had a big bowl of the leftover Roasted Carrot/Ginger Soup topped with pumpkin seeds.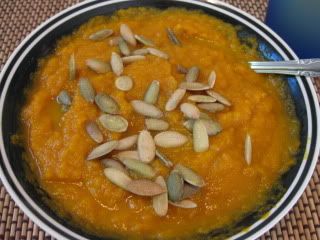 And a refreshing Lime Spritzer.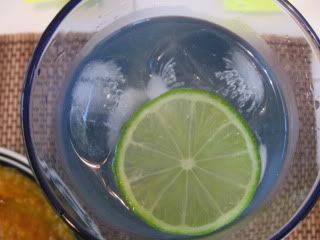 1 lime juiced
1 tsp Agave Nectar
Ice and Water to fill the glass
Yum! All together it was the perfectly light dinner and it allowed me to save room for dessert.
Coming up next (if my technical difficulties stop!)….my amazing dessert and review of the 3-minute Chocolate Mug Cake!