For lunch today we stopped to check out a local sale that was going on near us on our way to walk. I was soooo tempted to buy some stuff because they had all kinds of unique items that you cannot find anywhere. But, I thought to myself, what would I do with it, I mean, seriously? Would it just become another dust collector? Ohhh, no, maybe I could use that cool plate in my blog or ohhh look at the recipe book. Oh wait, maybe I'll get this because it says it is Made only in Napa Valley. I have to say, I am thoroughly proud of myself that I looked and kept on going. It doesn't hurt that the line was pretty long and I wanted to walk out in the sunshine!
We had an awesome 4.5 mile walk and I came back starving. This morning I pulled out my last serving of my Snobby Joe's from the freezer. I toasted up a bun and topped it with the mixture ~ it is STILL so amazing to me.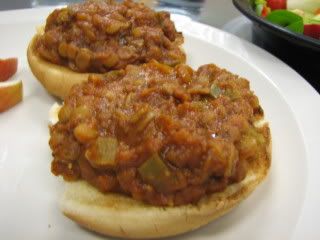 With my snobby goodness, I had some leftover salad with Trader Joe's lowfat Spicy Peanut Dressing.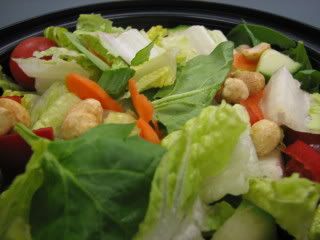 And the other 1/2 of my apple with fizzy water. It was a filling and delicious lunch with no cooking involved (well, I had to microwave it!)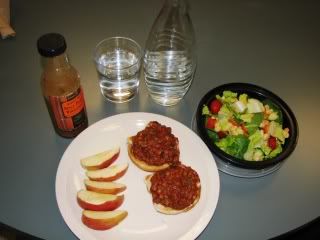 This is why I LOVE freezing things. The Husband always teases me because he says I put everything in the freezer. But, it is perfect for days like today when I just want to be able to grab and go.
This morning, I tested out one of my Moon Pies for snack. It was so good – marshmallow, peanut butter, chocolate, crunch ~ it's seriously everything a girl can dream of snacking on.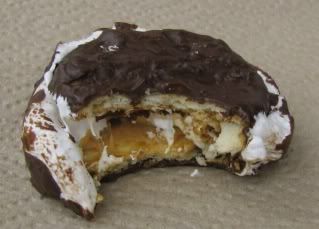 I think the trick to getting these to set though is to freeze them over night and double coat the chocolate. That is my next attempt.
QUICK COOKIE UPDATE: Samoas
My co-workers are STILL talking about these cookies I made last night. One even told me I should market them and sell them like the Girl Scouts LOL. I think that definitely means it might be a keeper. The Husband had 3 with his lunch and LOVED them too. I think I might have to make that my afternoon snack now 🙂
Hope everyone is having a fabulous 1st day of spring and you are off to start your weekend early.