My friend Rachel's Holey Donut order arrived today and we decided to have a Donut Party – yeah!!! Sharing is FUN and I am soooo glad that Rachel learned to share in school and invited me – I am one lucky girl!
Quick side note for those of you wondering ~ Ok, um ya, so today is maybe not so good of a Jump Start day, but, it was fun and totally worth it. LOL.
I hope you are prepared to drool because these donuts really ARE that amazing and then some! She took full advantage of the 30 FREE lowfat Cinnamon Donut Holes special plus ordered 3 packs. Use the promo code "AWNY" when checking out!
We were amazed when we opened the box and everything has remained cold and well frozen. Their secret is packing it in an styrofoam ice chest – yeah for the FREE ice chest LOL.
The first box was Lemon Donut Holes!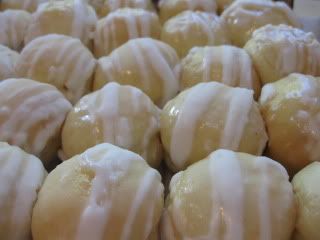 The second box was the Lowfat Cinnamon Donut Holes!
I think my mouth fell open when we came across box #3 – the cinnamon rolls! They are HUGE and only 4 fit in one box!
The final box was her variety box – it came with 3 flavors.
Vanilla Coconut
Toasted Coconut
Lowfat Cinnamon Steudel
6 came in the box – 2 of each flavor.
We divided everything into 3 since The Husband heard about our party and wanted to join in. See I shared too! Here was my Donut Party Sampler Plates!
I started off with the 3 donut and cinnamon roll sampler.
The cinnamon roll was probably the BEST cinnamon roll I've ever had – it "might" just be better than Cinnabun because it is healthier with less fat and tastes amazing!!! We ALL LOVED the donut bread on each flavor donut with the lowfat cinnamon crumb being the best flavor of all. I am not sure any of us would order any of the coconut flavors again – they were good but not as good as the the cinnamon crumb.
Next, it was time for the holes.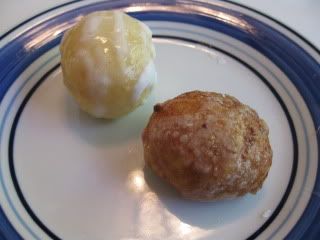 I have to confess I have been totally wanting to try the lemon hole. I mean look at it – it's enough to make you drool on your keyboard just by the picture alone. It was pretty good, but, I think a stronger lemon flavor would be good. Then again, it was still half frozen so I might have to give it another try. I liked the cinnamon donut hole too!
Ok – really quick – things I LOVE about these donuts so far – they actually taste like a real donut – you couldn't tell it was healthy. The bread flavor has the same consistency, softness and flavor of donuts, but, it is not fried – my guess is it is baked and that is how they save on fat/calories. I LOVE how you keep them in the freezer to pop on just a serving at a time. Plus they are FUN to eat and a great treat!
Dislikes – I have still yet to find an ingredient listing or a real nutritional listing. The box and online tell you that any donut falls into the range of 160-250 calories and 3-4 grams of fat. That is a pretty big sliding scale if you think about it – does the hole fall into the 160 or 250, how about the cinnamon roll? Because if I had to pick I'd always pick the cinnamon roll.
**Edited after my original post ~ I found the nutritional information on their site. It is under nutritional details and then you click on each individual item. Yeah – Thanks CG!
My FUN news for you all is that Holey Donuts is going to have me host a giveaway for you all so you can WIN some of their fabulous products. This was the big announcement I was going to tell you all the other night – yeah! I will let you all know more when I get the details – I can't wait to share some more fun!!