Why is it that short, 4-day work weeks seem LONGER than 5-day work weeks?! I woke up this morning wishing it was Friday only to remember it was Thursday. I am sure the morning will fly by as I can't wait to go to BODY PUMP at lunch!!!
To get things started this morning, I made a BIG wafflewich! I LOVE wafflewiches becuase they truly do feature ALL of my favorite things.
You start off with TWO toasty and warm Kashi Strawberry Flax Protein Waffles (3 WWP). Top one sid with 1 Tbsp freshly ground almond butter (2 WWP) and the other side with 1 Tbsp all natural apricot preserves (1 WWP).
Layer on 1/2 a slice banana (1 WWP), plus a few sliced strawberries and a sprinkle of blueberries.
Sprinkled with a little unsweetened organic unsweetened coconut (0 WWP).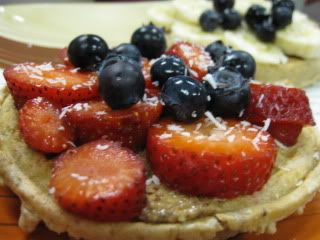 These leaves you with TWO awesome waffle halves just waiting to be "smushed" together.
Carefully flip one on top of the other, gently pressed them together and cut the wafflewich in half ~ Tadahhh! You have an amazingly fun, tasty breakfast to eat that is beyond words good!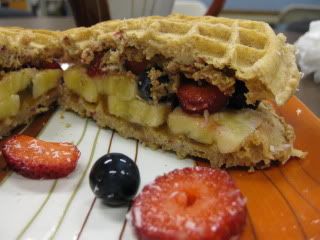 This breakfast completely hit the spot. I had to share with you the cover of one of my FAVORITE Magazines that arrived last night. How GOOD do those CLEAN Chocolately Oat Ice Cream Sandwiches look?!
There are soooo many good recipes in this months issue that I am definitely going to be making some ASAP! I'll be sure to share all the ones I try, including those homemade ice cream sandwiches!!!
P.S. I LOVE how they talk like me in using "BEST EVER" ~ The Husband always teases me saying I use that too much LOL.
TODAY'S FUN NEWS:

* Blue is having her LAST giveaway of May ~ Click HERE to check it out.
* You can win a SUPER COOL Basket of Goodies – I want to win this one!!! Click HERE to enter or not :p

* Fit Bottom Girls are continuing their birthday celebration with giveaways galore! Be sure to click HERE and enter them ALL – they are announcing the winners this week!

* Have you ever thought of WALKING ACROSS AMERICA? Weight Watchers online featured a pretty cool article today of how you can do this. Click HERE to check it out ~ fun!

Coming up NEXT ~ My GNU Bar Giveaway!!!!