Today is just a fantastic day and it's only Thursday! I LOVE days like that. Body Pump was so intense today because our instructor challenged us to add more weight. We added weight in the middle of sets – who does that?! LOL….One time when she asked I just stood there and she threw the guilt factor out of "if you want to get the most out of your bicep rows, you NEED to add more weight". I could see in the mirrors I was the ONLY one not doing that….maybe she was talking to me? hehe! Well – it was awesome and I left all shakey & pumped!
I was excited all day long to make up my planned wrap for lunch using the leftover Southwestern Turkey.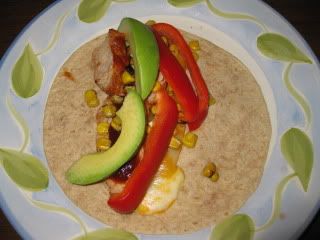 Mission Life Balance Whole Wheat Tortilla
1 slice Sargento Lowfat Colby Cheese (these are only 1 Weight Watcher Point!)
Annie's Organic Sweet & Spicy BBQ Sauce
Jennie-O's Southwestern Turkey Breast
TJ's Fire Roasted Corn
AVOCADO
Red Bell Pepper
So amazing!!! I LOVE the sweet & spicy BBQ sauce that was cooled by the Avocado and smoked by the corn!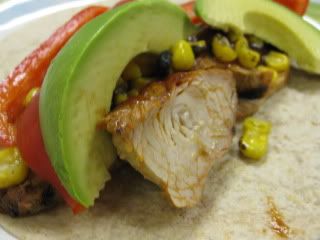 And cheesey goodness that I could TASTE! I only use cheese when I can taste it – why waste the calories/points if you can't tell it's even there.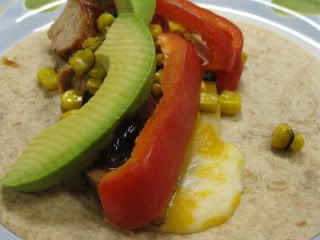 I had the leftover salad with Newman's Lightened Up Lime Vinaigrette and 3 Miki's Organic Tortilla chips crushed for the crunch factor.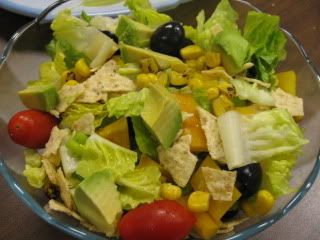 It was a fantastic lunch and it kept me full all afternoon. This afternoon I had a planned snack of an apple plus almond butter, however, I decided to trade it for a 100 Calorie (2 Weight Watcher Point) stick of Trader Joe's Dark Chocolate.
Oh and then there was the Farmer's Market! I scored some fantastic stuff today – everything is so in season – I LOVE it!
If you buy one fruit ORGANIC, BUY STRAWBERRIES! I promise this is the one fruit you can tell the most that it's organic – the flavor is outstanding! They taste sweeter and juicer than the pesticide filled versions. Try it and I think you will agree.
A mixed variety of white/yellow peaches, nectarines and PLUOTS!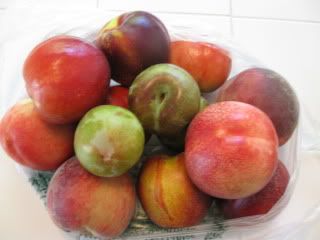 2 types of cherries ~ I am sad that the guy said this is the last week 🙁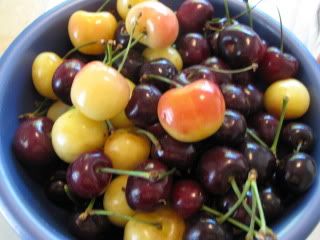 Check out how BIG these Rainier cherries are…..sitting on top of a pluot!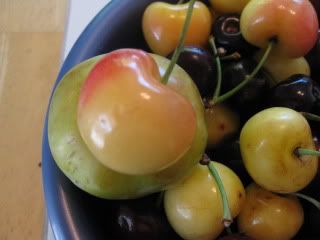 And since summer is officially here and it was blazing hot outside at 96 degrees, I got a small shaved ice. I am a total sucker for shaved ice – I LOVE it as much as I love froyo and ice cream. HOWEVER, I do think that the guy selling it is ripping people off! Can you believe that this mini cup was $2.25? I almost told him never mind when he said that. We can get HUGE cups of shaved ice around here for under $2 – It was good though with no nutritional value at all 😀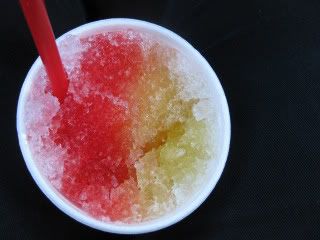 The Husband got one of his gigantic Beef Sticks…..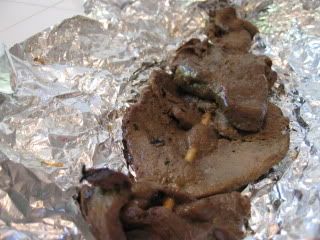 When I got home, I had the coolest box ever waiting for me! Janetha sent me the coolest Thank You for her TJ's Birthday gift package…….PB& Co TRIO!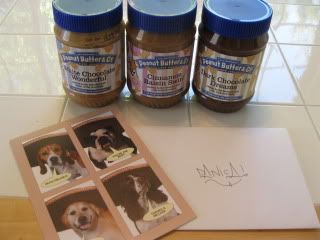 Not one, not two, but THREE flavors! White Chocolate Wonderful
Cinnamon Raisin Swirl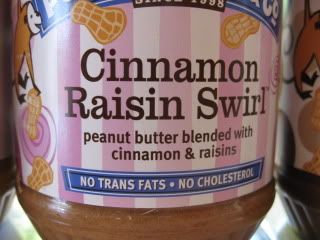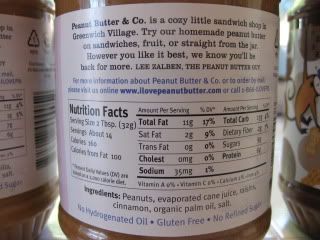 Dark Chocolate Dreams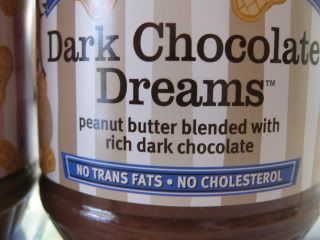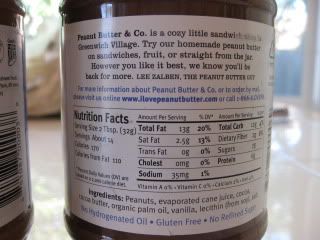 And the CUTEST card ever – I do not know which pooch I LOVE the most – they are all adorable!
I had thoughts of opening them ALL to sample but I had to show SOME self restraint. I am so pumped about ALL of these flavors since I was having serious PB evny from you all – they do not carry these in Cali out by me 🙁 Now I get to play along – yeah! Thanks so much Janetha ~ You are the sweetest person ever and you seriously rock!!!
Ok….now I suppose I need to go figure out dinner! It's hard when it's SO hot outside. I am STILL thinking about the turkey and wraps and bbq ~ maybe a quesadilla is in order or just a BIG fruit salad.
QUESTION OF THE DAY: Which PB& Co flavor should I try first and what is your favorite way to have it?
You have just a few short hours to win some HOLEY DONUTS! Don't miss out on these fantastic healthy donuts. I guarantee from personal experience that they are as AMAZING as they look in the pictures if not better! Click HERE as the contest closes at midnight tonight!