Do you all remember that I said I was participating in Megan's Secret Bloggie Exchange? If you did, I am proud of you because I actually forgot that I was RECEIVING something. When the package arrived in the mail today, I was like did I win another contest? Hmmmm….Yup, that was the blonde in me coming out a bit! My Secret Bloggie is totally on top of things ~ she managed to make and send her package to me already!!!
My Secret Bloggie is non-other than Chickpea at The Broccoli Hut! Not only is her blog amazing, SHE is amazing! You really spent alot of time getting to know me and my blog without ME even know. She put togethet the coolest Summer Menu Plan for me!
I opened up my box to find a super sweet letter (The Husband said he LOVED the paper) and a Summer Menu all planned out for me.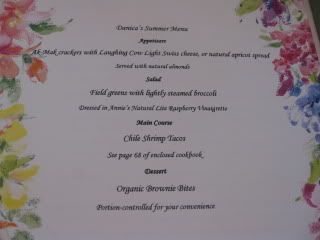 In my secret package, she included a FABULOUS Mexican Food Cookbook and Picked out the Spicy Chile Shrimp Tacos for dinner!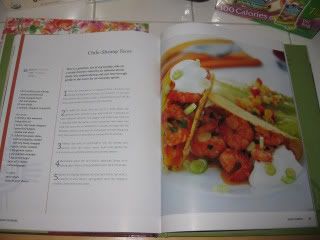 And, here is the rest of the stuff I NEED to complete my meal!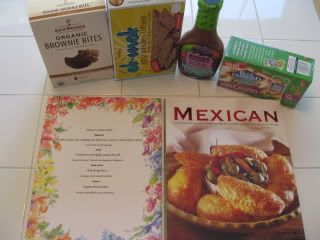 She knows I LOVE pre-portioned things and Kavli so she gave me some NEW stuff to try out.
* 100 Cal Raw Almonds ~ LOVE THESE!
* Akmak Crackers ~ Never tried, but, I cannot wait to with Laughing Cow Cheese AND Apricot Preserves (a girl after my own heart – who doesn't LOVE cheese and crackers!)
* Annie's Naturals Lite Raspberry Vinaigrette (one of my favorites!)
* DESSERT ~ Erin Bakers ORGANIC Brownie Bites! I've been dying to try Erin's stuff so I am soooo excited.
Thanks so much Chickpea (didn't know if you wanted me to use your real name!). I CANNOT wait to make the Summer Meal Plan you picked out for me and to try out ALL my goodies!!! You honestly made my day!
After I spend time going over all my super cool Secret Bloggie Stuff, I hopped in the car and headed to Trader Joe's to pick up some last minute stuff to finish off my Secret Bloggie package and to send out for somebody's Bday present. Before heading out, I snacked on some pistacios (3 WWP).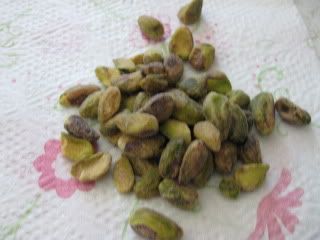 How I WISH I waited for snack! While I was at Trader Joe's I came across a NEW PRODUCT that I am dying to try out now. PB&A (Peanut, Berry & Almonds).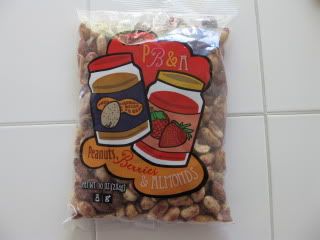 They look and sound so amazing and everyone at the store was raving about them! I am trying to hold out until tomorrow to bust open the bag.
Lunch was fantastic but not so eventful. I picked up 4 pizzas for our concrete workers for lunch and made sure one was a cheese pizza with STUFFED Crust. I had two pieces and was completely stuffed (no veggies or fruit on the side).
After everyone was finished and about to leave our adopted kitty decided to show up. Guess how?! By jumping off the neighbors fence, right onto the new concrete – booooooo! I actually think it freaked her out more than us. Luckily they were able to fix it and all was well again. She was happily spoiled inside sitting on her mat and is now sleeping (like a dog at The Husband's feet).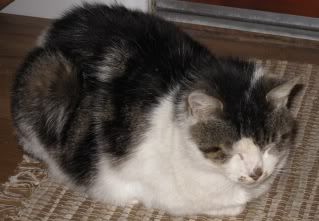 Doesn't it look great?! We are completely happy with it. I promise more pictures when everything is all done up, but, one thing at a time, right.
Since we decided we are now poor after paying for the concrete and neither of us wanted to cook, I threw together a fast dinner making up a
Layered Turkey Quesadilla
1 oz lowfat, finely shredded Monterey Jack Cheese
1/2 c Turkey Taco Meat (I used the one I made the other night)
5 cherry tomatoes, sliced
1 sliced scallion
2 chile lime corn tortillas (I get these at the Farmer's Market too!)
Start off by spray your nonstick skillet with nonstick cooking spray over medium heat. Add your first corn tortilla and top with 1/2 the cheese. Add the meat and top with the remaining cheese, tomatoes and scallions.
Add the other corn tortilla and flip cooking until both sides are crispy and the cheese is all metly and gooey. (6 WWP's). I thought of adding avocado and/or salsa but not until AFTER I was half way through (I was hungry!)
I have been craving fruit ALL day, so I decided to cut loose at dinner time. I had 2 WWP's worth of a blueberries, raspberries, cherries, watermelon and cantaloupe.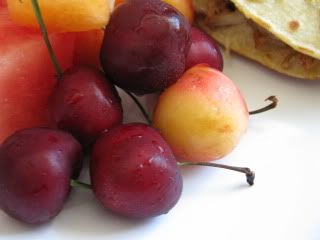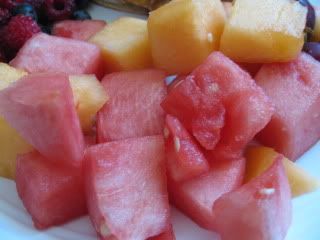 All together it was a totally fun dinner to eat that hit the spot. I was missing fruit and veggies (still missing these) ALL day.
We are currently staying home to "watch" the concrete (The Husband is hilarious!), but, after ALL that we did today and being up at 6 am, I am ok with that. We may still venture out for a movie, but, we will see if he is ok (leaving the concrete) LOL.
Click HERE for your chance to win some 2-3 WWP GNU Bars! Contest ends tomorrow night so don't miss out!