Today was definitely a day to get out and enjoy our 80 degrees of sunshine for lunch. I was planning a lunchtime run until my co-worker said "Sushi Mambo?" Helllo….sushi….I LOVE sushi in case you haven't already noticed. It is probably my #1 way for getting in my Omega 3's 😀 lol…I wonder why it is that I like raw over cooked, hmmmmmm.
For starters, I had my favorite soup that is good whether it's hot or cold out side ~ Miso Soup w/tofu.
We couldn't decide on which rolls to get so in my usual indecisive way, we got both! We ordered a High Roller Roll (shrimp, cucumber roll topped with freshly sliced Tuna & Salmon & sprinkled with crab & a zesty (aka spicy sauce))…This roll was fabulous but would've been perfect with avocado!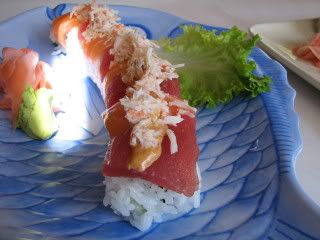 So, we decided to take our next roll and have them add avocado & cucumber to The Pacifier (spicy Tuna topped with freshly sliced Salmon & Mambo Sauce & sesame seeds). The sauce is on the inside and on top. So amazing…I could've eaten this entire roll by myself, but, I was nice and shared 😀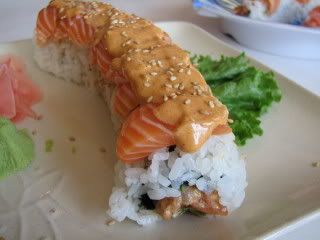 And because it is our tradition when I go with this co-worker, we ordered The Volcano! This is seriously one of the best dishes on the menu and it really looks like a "Volcano". It has 5 types of fish slighlty broiled (like searing), topped with both Zesty, Mambo & Sriyachi sauce and Tobiko on top of sushi rice……I cannot even begin to tell you how good this is. Today was no exception – it was made perfectly – so tender the fish just melted in your mouth. I ate my half of the volcano.
My lunch was serioulsy rocking but my afternoon snack was much needed after checking out Meghann's Baked Sale Goodies over and over again! I had a Triple Chocolate Vitatop topped with 1 Tbsp freshly ground organic almond butter ~ who needs dessert when you can have this amazing treat loaded with vitamins!!! I LOVE Vitatops – we all know the top of the muffin is the best part. I popped it in the toaster for a minute before topping it so it gets toasty on the outside and ALL the chocolate gets melty….yum!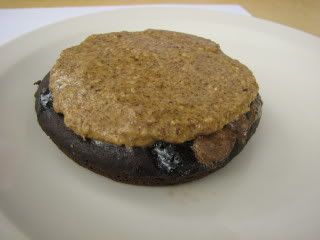 Ok ~ as if I haven't made you drool enough yet, be sure to check out the Annie's Giveaway for your chance to win free stuff. Your odds are pretty good this round as there are not too many entries. Plus there is STILL time to bid on my Baked Sale Goodies over at Meghann's Bake Sale….don't miss out on all the fun.