Do you all remember when I won the Furochic and Cookbook contests a few weeks back? My goods arrived today! Yahoo!!! I LOVE coming home to find fun mail – seriously, who doesn't love winning contests or getting cool things in the mail.
Let's start out with what I opened first – my Furochic! I won this from LaFujiMama as part of her Earth Day Contest. I absolutely LOVE this concept – you use reusable wrapping for your gifts instead of non-environment friendly (non-recycleable too!) wrapping papper. Look how cute it is – I LOVE all the color!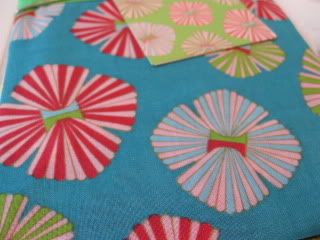 LaFujiMama even threw in some of the cutest matching magnets to go with it!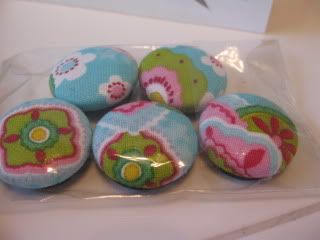 I absolutely LOVE it and can't wait to test it out! Stay tuned for some of my attempts at wrapagami and to wrap it as fabulous as she did to show you all the uses! Thanks again LaFujiMama for the best giveaway ever – You rock!!!
Now you all know I have a sick addiction to cookbooks, right? As The Husband points out all the time we have more cookbooks/recipes than we could ever make in our lifetime. Oh, ya, I didn't mention I print out and put recipes in binders that I find online too LOL. Ok, well, when FatFighterTV was having a cookbook giveaway and all you had to do was post a recipe – I WAS so THERE! My Veggie Queen Book AND DVD arrived last night too!
And the book is personally signed by The Veggie Queen – so cool!!!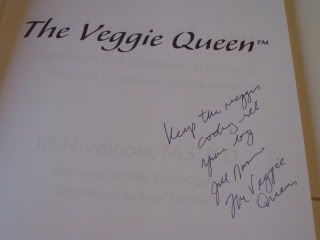 Check outh super cute post-it's that FatFighter included too? I LOVE the logo and will definitely have fun using these.
I like how the book is layed out by season – what a concept! You base your cooking by what's in season. I can't wait to test it out. Now a Pressure Cooker is one kitchen item I don't have, but, I just may have to look into adding it! Hmmmmm……Christmas is coming, Christmas is coming!!! LOL. Thanks again FatFighterTV! I LOVE the book, DVD and post-it's – you're awesome!!!
Ok…moving on – it was fun coming home to such great stuff. Dinner you all might thing is less exciting. I had planned out whipping up another BL 30 day Jump Start meal but, we had so much food leftover that I decided it best to not be wasteful. So – dinner was Mother's day leftovers.
Can you believe I was actually craving brussel sprouts? It's ok mom, don't fall off your chair! I never, ok, refused, to eat them growing up. But, this recipe is really good – the nuts are the star to me.
I also had a 2 pt scoop of my healthified potato salad.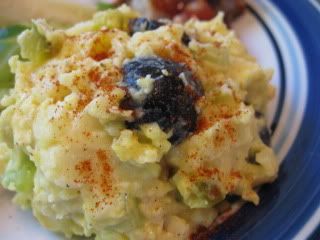 With 1/2 a BBQ lean pork chop drenched in extra BBQ sauce – yum!
And some watermelon for dessert.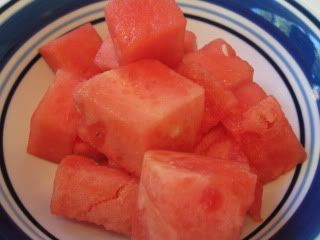 It was really tasty – I LOVE leftovers because you don't have to cook and often they taste better the next day.
Are you all ready to laugh at me? I was all excited to watch The Biggest Loser finale last night and I was having a serious ice cream craving. I mean, common, who watches a show about losing weight and getting in shape eating ice cream? Ummmm, ME!!! LOL So I had 1/2 a cup of Dreyers Slow Churn Lite Vanilla with 2 Tbsp of Mrs. Richardson's caramel – my favorite!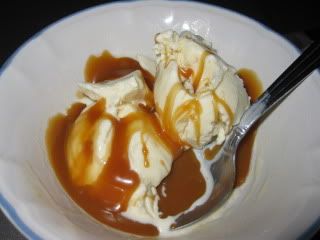 It really was as amazing as it looks for 4 WWP!
What did you all think of The Biggest Loser Finale?
LIKES: I really enjoyed seeing how everyone did and how they look. Tara looked amazing and so did Jerry (shocker!) Pink Lady Helen looked sickly to me – she lost way too much weight.
DISLIKES: It was the LONGEST finale ever – it really seemed to drag on. While I sort of liked being able to vote who was going to be on the next show – it sucked if you were in California since the voting polls were closed BEFORE the show even started. What is that all about?
Oh ya and I wanted Tara to win! 🙂