Whew – it was another one of those days where anything that can break does and you spend the whole day running around "putting out fires". I guess the positive side is my day flew by – I do not think I ever looked at the clock once and thought, how long til the weekend starts.
I had probably the best ever 120 calorie snack this morning! I guarantee you will want to try this, but, first let me tell you a little about the products.
Move over Wasa Crackers because Kavli Crisp Crackers will rock your world. I LOVE these big crackers as they have a nice snappy crispness with a little nuttiness. I had 3 to choose from this morning.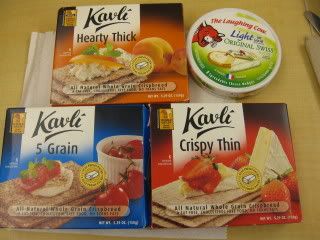 So many choices, how do you choose? WW the Blue & Orange Box are 0 pts for 3 and the red box is 1 pt for 3 – woohoo! All of the ingredients are 100% CLEAN as in you can say and recognize everything.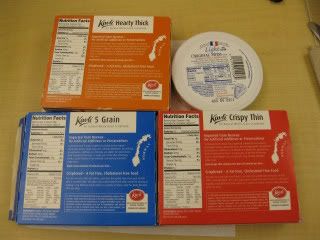 Today I decided to pick the 5 Grain – check out the nutritionals ~ awesome!!!
I topped each cracker with 1 35 calorie Laughing Cow Lite Swiss Wedge each.
Then smeared the cheesiness all over and topped it with freshly ground organic black pepper…..This was seriously heaven on a cracker!
After finishing up my huge project at work, we decided to head out at lunch to celebrate at Gillwood's Cafe. I the Jump Start menu today I was supposed to make up Andrea's Wrap plus 1 cup of fat free milk. Click HERE to check out her amazingly easy recipe.
As much as I wanted to have the Best Ever Veggie Burger, I decided to get a turkey burger, minus the bun, plus mushrooms & made non other than
A Turkey Burger Salad!!! I drizzled my salad with fat free raspberry walnut dressing – so good!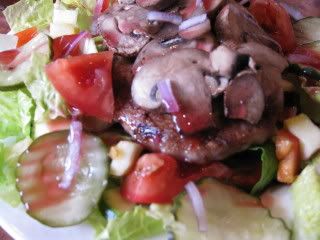 To meet my 8 oz of fat free milk, I have a fat free decaf latte sprinkled with a little cocoa powder & a honey drizzle. I had about 2/3 of this to equal ~ 8 oz – so good!
NEW PRODUCT ALERT! Ok, well, with TJ's they actually use their label on alot of company products and call it their own. (Hint…if you see a bottle that looks like Annie's Naturals with a TJ's label or mac & cheese ~ it's made by Annie's). I think it's great because you can save $ by buying their brand.
I was all too excited when I saw that they have not 1, but, 3 new fat free greek yogurt options in new 6 oz containers.
My afternoon snack was supposed to be the fat free vanilla container with 1 Tbsp of ground flax seed and an organic fuji apply for dipping. However, I was so busy with work I never got around to having it. I STILL can't wait to try these and I'll be sure to let you all know how they are.
Sorry for the blogging issues today ~ I think blogger was as tired as I have been this week and wanted a break 🙂 Hopefully they fixed everything and all is well now.