Today has been such a fun day and I have enjoyed hanging out with The Husband. We ran some errands today~ the bank to add each other to our accounts, a local farmers stand, shopping and stopped to visit with some friends. We chatted with our friends about our next vacations and where to go next. Our ideas went from Autstralia/New Zealand (airfare was announced at $299 each way this week), to visiting the Grand Canyon, Mt. Rushmore, Niagara Falls/East Coast……how about all of the above?! It really made me think a vacation is in order.
I got a little hungry while we were out/about and decided I needed to snack since lunch was still a ways away. I received some free loot this morning from Weight Watchers, so I decided to snack on their 1 point Mint Chocolate Crisp Bar. I LOVE Mima at my local WW facility – she is really my favorite receptionist ever.
The verdict: Everyone says they taste like the Girl Scout Thin Mints and I have to agree. It was crunchy, chewy, chocolately and a pretty tasty snack for 70 calories. I found some recipes for making your own Girl Scout Cookies so I may just have to buy some and make some for comparison. What do you think? Good idea???
Next up on our list was lunch out at The Husband's favorite mexican food place, Vasquez Deli. I LOVE Vasquez too. The place is so cute and it's family owned. They have gone from a small stand on the corner to a big restaraunt. They really do so much for the community and so many people travel from far away to eat here. They make everything themselves including their tortillas and hot sauce. The food is pretty tasty and not too expensive either so that is a definite added bonus.
For starters, I had a few tortilla chips with beans/cheese for dipping.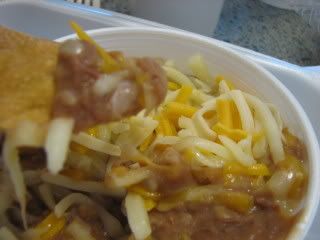 To keep with the vegetarian week theme, I had a bean tostada that was so filling. I was sorta bummed that the guacamole wasn't made from scratch, but, this was still super tasty.
While devouring my meal, The Husband asked if I wanted some of his cheesy quesadilla. Look how thick that flour tortilla is – how can you say no to having a bite of this?
This was seriously heaven, I could eat a whole one of these easily! Too bad I was too stuffed to have more than a bite.
Our next stop was to visit LeAnne at DownTown Gowns, the place I bought my wedding dress from. It doesn't hurt that one of The Husband's good friends is her significant other. We stopped to share our photos with her (better late then never) and she picked out 3 to have blown up to show her guests. So fun, here are links to the 3 she picked.
http://jayanddanicasadventures.shutterfly.com/741
http://jayanddanicasadventures.shutterfly.com/735
http://jayanddanicasadventures.shutterfly.com/734
I really do think she is awesome and so is her shop. I highly recommend DownTown Gowns as a place to pick out your dress, try them on to get ideas and more. She made sure I had everything from my dress (packed & ready to take with me), to my jewelry, to my princess crown and the recommendation for our cool flip flowns that marked the sand with "Just Married" as we walked in the first picture. It was fun visit and it totally makes me want to go back!
We also made a stopped at The Vegetable Patch (local farmer) and then continued on shopping to get stuff for the St. Patricks Day celebration we will be having at work. I will share more details with you all on Tuesday, but, I think it will be a blast.