Woohooo ~ I won another contest!!! I seriously need to play the lotto this week for sure! I am soooo excited in case you couldn't tell. You can check out what I won by clicking HERE. Thanks so much La Fuji Mama – I can't wait to get my Furochic and I will definitely take pictures to show it off! I can't wait to use my new furochic wrap & be greener!!!
I just got back from an amazing 4 mile chatting walk with my co-worker. I LOVE how time flies when you don't stop talking the whole way. Poor her – I had some caffeine today so I am sure she was just trying to keep up with my words.
I have to say my lunch was not too exciting today. I started off with another 1 cup serving of the Spicy Tomato Soup.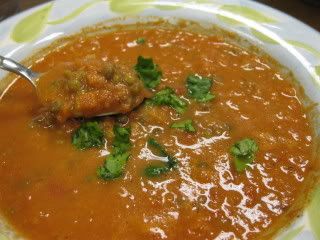 As promised, here is the recipe for this soup with the changes I made. I do have to say if you LOVE tomato soup, you should check out my favorite version that I made by clicking HERE. It's awesome in the summertime with fresh produce.
Spicy Tomato Soup
Source: Biggest Loser 30-day Jump Start Diet
Ingredients:
1 tablespoon olive oil
½ cup chopped shallots or 1 cup chopped white onion
2 teaspoons ground cumin
2 teaspoons mustard powder
1 teaspoon ground coriander (I omitted this and used TJ's 21 Season Salute)
28 oz chopped fresh plum tomatoes or 1 can (28 oz) plum tomatoes roughly chopped
2 tablespoons low-sodium tomato paste
1 tablespoon minced garlic
2 cups fat-free or 1 % milk
1 cup fat-free, low-sodium chicken or vegetable broth
1 cup cooked lentils (I bought the precooked ones form TJ's)
¼ cup chopped fresh cilantro without stems
Salt & Pepper to Taste
Directions:

Heat the olive oil in a heavy 4-quart saucepan over medium-high heat lentils it's hot but not smoking. Add the shallots and cook for about 3 minutes or just until they're softened but not browned. Add the cumin, mustard powder, coriander and cook for 1 minute or until fragrant.
Carefully add the tomatoes, tomato paste and garlic. Simmer for 4 minutes, or until the tomatoes are softened. Add the milk and the broth, simmer, stirring occasionally for about 4 minutes.
Carefully transfer the mixture in batches to a food processor or blender and process or blend until smooth. Return the mixture to the saucepan and add the cooked lentils, stirring to incorporate them. Heat the soup through and stir in the cilantro. Season to taste with salt and ground black pepper.
Makes 4, 1 ¾ cup servings or 7, 1 cup servings
Per 1 ¾ c serving:
230 calories, 13 g protein, 33 g carbs, 15 g sugars, 6 gat fat, 2 g saturated fat, 5 mg cholesterol, 8 g fiber, 210 mg sodium
On the side I had 1/2 a simple 2 oz turkey sandwich turkey sandwich with spicy mustard on 1 slice of Ezekial Bread.
Sadly ~ That's all the Jump Start Diet gave me today for lunch and my stomach is still grumbling. My afternoon snack while it is yummie I have a feeling is not going to make the grumbling go away. Must……focus…….on…….work……
Here is a cool article that I saw this morning on FatFighterTV – Can you believe how the portions have changed over the past 20 years? Click HERE to Check out portion distortion –
And what day wouldn't be complete without a GIVEAWAY ALERT!!! Be sure to sign up for this "spicy" giveaway at BlueSkyWorld by clicking HERE.
Stay tuned tonight for a fabulous Salad and workout #2!