This was a quote in the Biggest Loser Jump Start Book by Mandy and you know it really stuck in my head. No matter how busy my day is, how tired I am or how much I do NOT feel like running or working out, I can always walk.
As insanely busy as today was, I managed to break away for a fun 45 minute walk with my co-worker today. We even included a stop at Classic Party Rentals to check out some fun things. She is getting married next year so it's fun to go through the planning process with her since I didn't do that really for our wedding.
Before we left, I snack on a super juicy organic pair and two types of lowfat string cheese (TJ's and Cabot Light Cheddar).
When we got back from lunch, I made up fabulous Toasted Tuna Pita.
1 Whole Wheat Pita cut in half & toasted
4 oz Albacore White Tuna
~ 2 Tbsp diced red onion & celery
dashes of (~ 1/4 tsp) dill, garlic salt and freshly ground pepper
The KEY ingredient: 2 Tbsp Newman's Own Lite Lime Vinaigrette (LOVE this stuff!)
I had some cut up carrots and celery for some crunch on the side.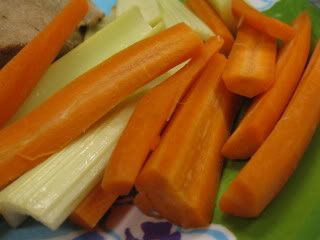 I realized after I got home I was also supposed to have 8 oz of ff milk with this lunch ~ oops! No worries though, I was sure to make up the calories missed later – you'll see 🙂
I was so thoroughly bummed this afternoon when I missed the snack I had been waiting for ALL day due to an impromptu meeting that went from 2-5. It was supposed to be this amazing banana almond butter smoothie (1 c ff milk, 1 c ff vanilla yogurt, 1/2 banana, 2 Tbsp Almond butter). I was starving when we got out of the meeting but knew that I shouldn't have my snack since dinner would be soon. Instead, I managed to visit Mr. Peanut M&M man and had a handful of these.
Obviously this didn't solve my hunger pains and I was more than anxious for dinner by the time I got home. But, it really did sound like a good idea at the moment 🙂