Happy Thursday ALL!! And Happy 5 year Anniversay to The Husband & I! Ok, well, let me back track one sec. Today is our 5 year dating anniversary but this month is also our 5th month being married. How cool is that?! It was so not planned that way, but, I'll take it. For – today is ALL about 5 of everything with The Husband.
I kissed him 5 times bye this morning with 5 I LOVE You's! I also put 5 little post it notes all around the house for him to find.
But the fun is really just beginning…..my real 5 day comes this weekend when we go to Lake Tahoe. I am thinking a 5 mile walk, a 5 mile bike ride, a 5 course dinner, 5 desserts, betting 5 on everything….the list goes on! We were originally planning on doing a 5K this weekend but opted for our Tahoe trip instead…that was the first place we went out of town together.
I will have to see if I can dig up a picture of us from 5 years ago. Now onto my scrumptious protein packed breakfast. These sandwiches just really do not take good pictures.
I had a 3 WWP Turkey Baconwich:
1/4 cup liqud eggwhites with hot sauce, salt & pepper cooked in my Ramkin in the microwave for 1 minute
1 1/2 slices TJ's Turkey Bacon
1 Thomas Double Fiber English Muffin
And some 0 WWP berries on the side ~ 1/2 cup: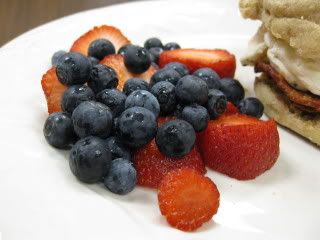 All together with some Starbuck's Decaf….Yum!
Did I also mention that today is my Friday?! 😀 I am sooooo excited to have a nice long weekend ahead of me.
Lunch is sort of up in the air depending of when The Husband gets done having my car serviced (he offered to take it today!!!) I will either be meeting him ($5 foot long – LOL – just kidding!) or making what I brought. I'll see you all after lunch.