I was surprised at how well my breakfast held me over this morning. I didn't end up needing my morning snack for about 4 hours – my breakfast had total staying power – love that!
My mid morning snack was another Jump Start Diet idea.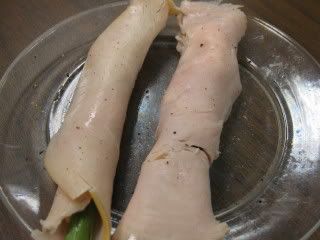 2 – 1 oz slices of 99% fat free Turkey
~ 2 Tbsp Weight Watchers Whipped Cream Cheese
1 green onion sliced in half, no whites
All rolled up and topped with a little freshly ground black pepper.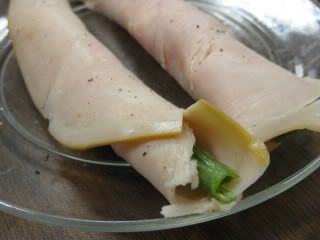 We headed out for an awesome afternoon walk covering 4 miles as we chatted away. I think all the excitement of the day really fueled us and we started walking like those super cool walkers moving their arms and shaking their booties. I can't wait to share my step/calorie count with you all tomorrow!
I was pretty excited for my lunch today. The Jump Start book called for 1 cup of organic fat free tomato soup so I pulled out a frozen serving of the Fresh Tomato Basil Soup that I made just a little while back. Click HERE for the recipe. This soup is so tasty and full of flavor yet so easy to make.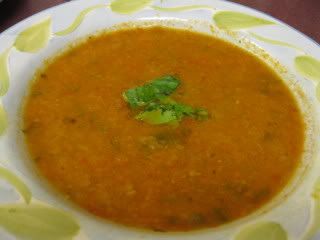 I honestly think this soup gets better every time I have it. I also had an Amy's Texas Burger topped with a little lowfat monterey jack cheese, baby lettuce, tomato, spicy mustard on an Ezekial Bun.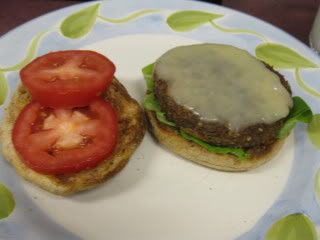 All together with 8 oz of fat free milk ~ this lunch was absolutely satisfying.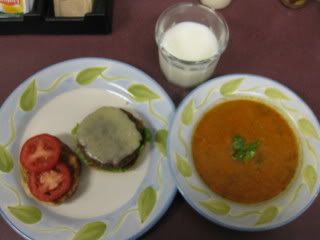 Just as I finished lunch I heard it was cake time! My co-worker picked up the cutest cake from a local store bakery. It was 100% pure chocolate with chocolate buttercream and chocolate fudge filling. I LOVE the decorations – so cute!
Yes ~ that is the M&M machine that taunts me each day in the background! I throw out the plain ones but eat the peanut ones 😀
I told the birthday girl I was supposed to bake for that I owed her a REAL BAKED birthday dessert and she gladly took a rain check. I still brought another one of her favorites – a Triple Layer Strawberry Fields Cake!
I have a general rule about cake and desserts. If it is a store bought cake I typically pass because I can get it anytime and it isn't special. If it is homemade, it is almost always wroth indulging in because you can't get it all the time. The Triple Layer Strawberry Fields is honestly the ONLY store bought cake I LOVE and cannot refuse.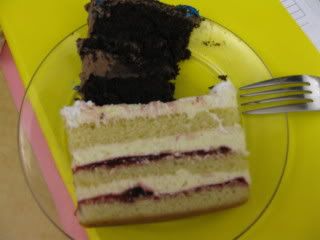 The strawberry cake was worth EVERY bite! The chocolate one was, eh, ok…a little bit too rich for me.
I can only imagine how many extra hours I am going to need to workout to burn it off, but, I am ok with that ~ the celebrating is done and I am going to finish the Jump Start Challenge strong!
YOU STILL HAVE TIME TO ENTER MY ANNIE'S MAC PACK GIVEAWAY ~ Click HERE to enter before Midnight tonight and the four prizes are given away!