Today is the BIG DAY ~ I cannot wait until tonight for the Biggest Loser Grand Finale!!! Who are you all voting for? I am seriously all about GOING GREEN – go Tara! LOL. Ok, I won't make you all listen to me rant too long about the BL because you came here to find out what's for breakfast.
This morning I started out with 3 fluffy egg whites cooked in a ramkin sprayed with nonstick spray for 1 minute in the microwave. Add a little hot sauce, sea salt, pepper and you have a fabulous 1 WWP filling food start to your day.
The Jump Start called for 2 oz of lowfat turkey sausage. I didn't feel like cooking any up and decided to give THESE a try again that I picked up at Whole Foods awhile back, WellShire Natural Chicken Apple Sausage. for 2 WWP & clean ingredients it was worth another try.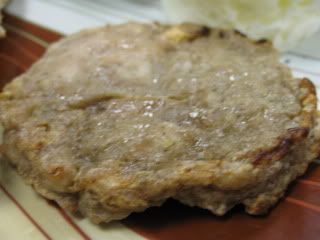 You know what – I STILL don't like them at all. Even though they say they are natural, they taste processed, have a funky texture and you don't even really taste any apple. I think I'll end up tossing them so I don't waste anymore of my calories on them.
For dessert (because each day should start with dessert), I had 1 cup of fresh raspberries.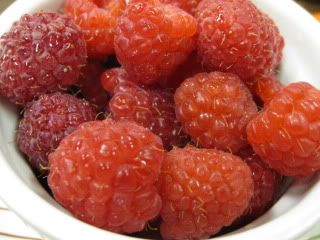 I also had a slice of Ezekiel bread on the side. I met one of my dairy requirements this morning by having an 8 oz c of FF milk and some awesome decaf cinnamon vanilla nut coffee. All of this goodness 6 WWP and exactly what the Biggest Loser 30 Day Jump Start plan called for.
TODAY'S FUN NEWS:
* If you liked Cupcakes (YUM!), then, these are the earrings for you! Be sure to click HERE to enter Beadies contest.
* I am going to steal some cool things from Janetha today because she always saves me when I don't have time to look. While you are at it, check out her blog – it rocks!
– Free Kashi Waffle Coupons – click HERE and go to print a coupon!
– Super Cool free organic & natural foods coupon book from this website!
* Test your veggie knowledge by taking Spring Veggie Quiz. I got 15 out of 20 (they were hard!). What did you get??

Today is another "fun" day as we are heading out at lunchtime to the Farmer's Market! I can't wait. I'll be sure to post some pics if I pick up any good things.
Be sure to check back later for lunch because I am making a FABULOUS Vegetarian/VEGAN dish that is super healthy. See you all then!