Happy Friday all! I woke up in a fantastic mood because Friday is finally here and it's going to be another gorgeous day in Cali! Not to mention we get to go home early today.
I am in the process of making a few changes to my blog and finally dropping the "blogspot" – yeah! They say it takes up to 3 days so you may have some funkiness with my blog, but, I promise things will be up and running smoothly again soon.
This morning I started off with 2 slices of Ezekiel Bread with a thin 1 Tbsp smear of freshly ground almond butter. (4 WWP)
Plus an awesome banana berry mixer – 1 small banana and 1 c strawberries ~ YUM!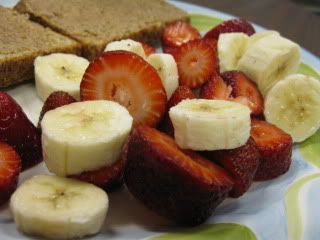 All together with some quarter caf coffee and a full Nathan Bottle. My goal today is to drink a ton of water. I have been thirsty lately whichs means I am definitely not getting in my usual 3-4 bottles full of h2o.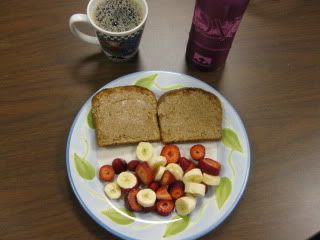 FUN FRIDAY GIVEAWAYS:
* Zesty is hosting the coolest giveaway ever if you are a nerdy blogger like me. He is giving away a Blog Makeover!!! You really don't have to enter since I soooo need it, but, if you must, click HERE. Zesty you rock!!!
* You can also score the coolest cookbook ever because everything is under 200 calories. You know what that means – you can eat MORE throughout the day. If you are like me, I am all about meal, snack, meal, snack, meal….Click HERE to get a super cool SIGNED copy of Hungry-Girl's 200 under 200 cookbook plus a T-shirt.
Here is a cool article from Women's Health today about 5 FUN WAYS TO UPGRADE YOUR JUNK FOOD. Click HERE to check it out!
Ok all ~ I am off to pretend to work for a few hours before the BBQ!!! Kidding LOL….I do miss putting together all the fun activities since I passed along my Glee Club President title, but, I am glad I can still help with the set up. I promise to share some picture fun of our event later.
Have a rockin' Friday and I hope you get out early to start your long weekend!