I am so excited to report to you all that I am now a featured publisher on FoodBuzz.com. This is so cool for so many reasons and I will definitely share more with you all as I learn exactly what it means. I am still learning all about it. For now, make sure you click on the "Vote For Me" button below to vote for my blog. Feel free to check out FoodBuzz.com as well by clicking on the Featured Publisher Tab above subscribe too. The more clicks the better for me ~ so click to your hearts content and let your OCD side go crazy.
I was so busy playing with everything that I actually didn't eat lunch until about 2 pm. I did manage to step out for a little lunchtime stroll and chat session with my co-worker however. Lunch was so tasty, I am not sure why I waited so long to have it.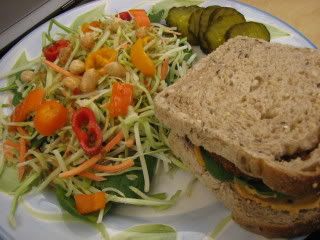 To start, I had a Morning Star Chick Patty with about 2 Tbsp of Roasted Red Pepper Sabra Hummus and spinach on two pieces of Toasted Multi-Grain Sour Dough ~ now this is how I do a sandiwch My-Way!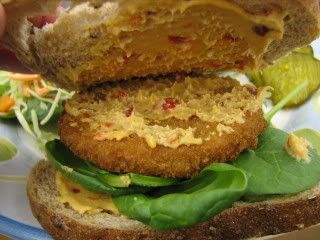 For my veggies, I made up a Peanutty Slaw Salad.
Contents:
Organic Baby Spinach
TJ's Organic Broccoli Slaw
Mini Sweet Peppers
Dry Roasted Peanuts
~ 2 Tbsp TJ's Spicy Lowfat Peanut Dressing
For added crunch, I also had a few cucumber crunchers (pickles) on the side. This was so satisfying, but, I wanted something sweet for "dessert". When I stopped by my co-workers desk for some Good Earth Sweet & Spicy Tea, she offered up this cute little cookie that I of course didn't resist.
This might have been why I wasn't hungry until later. This morning I snacked on a little homemade trail mix:
~ 2 Tbsp TJ's Golden Berry Blend
~ 2 Tbsp Dry Roasted Sunflower Seeds
~ 1 tsp Vegan Chocolate Chips
Be sure to check back tonight as I am making another fabulous Vegan/Vegetarian Meal that is guaranteed to be crunchtastic!