We had an absolute blast in Lake Tahoe. It was honestly the best way for The Husband and I to celebrate 5 years together. Our first date was to the Thunder Valley Casino. On our first date, The Husband lost $500 and I won $500 ~ it's only fitting that he would start handing over his money right away 😀 LOL….Well, this weekend followed suit (no play on words intended).
My gambling highlights ~ I got a straight flush playing Texas Hold'em Poker earning 3% of the Bad Beat Jackpot of ($8, 568). I also got 3 of a kind "K's" at 3-card poker getting a 30-1 payout on my $5……yahoo!!! Go me, the modest gambler….The Husband, well, I made enough to make us both in the green when we left – yeah!
Fun highlights ~ going to dinner at The Chart House where they gave us a special Happy Anniversary Menu, taking a bath in the full size Jacuzzi Tub and renting bikes at Anderson Bike Rental to ride along the lake.
Since pictures are more fun to look at than to read, I will just do some highlights and you can check out our latest at Jay and Danica's Adventures by clicking here for all the pictures of our trip.
** Click any of the small images below to make them larger ***
We snapped a few shots of our drive up to Lake Tahoe. I think this is one of the most beautiful drives and your first view of The Lake is always breath taking.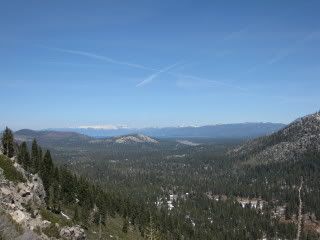 We stayed on the Tahoe "Strip" at Monte Bleu (the old Caesar's). We wanted to stay at the Wyndham Time Share but they were all booked. Our room was decent, but, I LOVED that tub where we lit 5 candles before using it.
We celebrated our anniversary dinner Part 2 at The Chart House. I LOVE this place – the service is top notch and the food is absolutely amazing. They really made the occassion special for us by printing up Happy Anniversary menus AND giving us a free Mud Pie Dessert ~ Yum!
I ordered the Macadamia Nut Crusted Mahi Mahi in a "Warm peanut sauce with a hint of Frangelico, mango coulis, coconut ginger rice" with a trip to their amazing salad bar! The Husband ordered a HUGE Prime Rib Steak plus garlic mashed potatoes
Here are some other food highlights of places we ate at ~ I highly recommend BOTH. After our bike ride, we ate at the Yellow Submarine. I had the best Club Sandwich there and the two ladies that run the place are absolutely fabulous. So nice and helpful even though I wanted to order one of everything.
We ate at The Brewery TWICE! I LOVE this place. For those who enjoy their brew ~ they make their own and highly recommend that you Drink Tahoe Brew! We had two versions of Hot Chicken Wings both times we were there (The Husband's favorite). The first night I had a side salad and ordered the BBQ Chicken Pizza ~ so good and it made for great late night snacking later. The Husband ordered their BBQ Beef sandwich. The next day for lunch we shared a Chicken Club & BLT Sandwich along with a huge order of fries. Ok, not the healthiest, but, seriously the best fries ever!!!
All of this food was supplemented with snacks I brought with us ~ Bananas, TJ's Strawberries O's, BBQ pretzels, nuts, etc. While we were up there, I had to stop into their local health food store and picked up two new things to try. I BIG date (LOVE that I could buy only one). It was eh, ok – very, very sweet, but, I can see how everyone is digging them stuffed with almond butter. I also bought/devoured an Apricot Almond Kind Bar. I LOVED this bar – super tasty, coconutty with a hit of apricot preserves and big whole toasted almonds. Not bad for under 200 calories.
One place that is always cool to visit for a change while in Tahoe is North Shore. It is much more laid back, but, the fun part, is you can stop at Cal-Neva to take a picture right on the line where California & Nevada meet.
If you are ever in South Lake Tahoe, I highly recommend checking out Anderson's Bike Rental. We choose to rent bikes here versus bringing our own because their prices are very reasonable and their bikes are awesome! You rent right at the beginning of the trail and cruise along the Tahoe Forest Trail that takes you to Camp Richardson, Pope Beach, Tallach Historical Site (super cool log made buildings, etc), USFS Stream Chmaber (underwater fish aquarium that you can walk through and see fish swimming), Baldwin Estates and Beach. There is also a wildlife trail that you can park your bikes and go walk. It's really an amazing trail and is a definite must see if you are in there area. Here are picture recaps of our ride.
Ok, so I have to ask ~ how many of you actually read ALL the words or did you just look at the pictures??? 😀 I give you total kudos if you made it through everything! It was a fabulous time and I am so glad we took a long weekend to celebrate.
Now it is time to get back to the grind….so, up next will be my AM post and a little about the 30 day Transformation!