I LOVE Farmer's Market Season. I wait ALL year long for the Farmer's Markets to open! I LOVE that majority of the California markets are open from May – November so I don't have to go through withdrawals for too long. Today on the way home we stopped at the small local market to check it out. I picked up two packs of my favorite of all time corn tortillas! These even stay soft when you freeze and unfreeze them. The flavor is absolutely astounding too.
AND (don't be jealous!) Cherries!!! I had to have a couple to sample them and they are amazing! This picture just does not do them justice.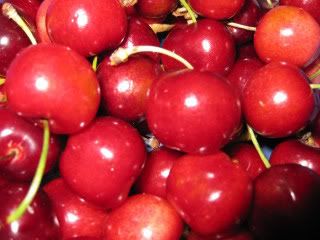 This was the first farmer's market that I didn't end up with a bunch of stuff. It was the first one and surprisingly there were not as many vendor's as usual….I hope that changes and I cannot wait for the fresh blueberry lady to show up!
Before we headed out to the market I was actually a tad bit hungry so I had my planned Jump Start snack. I had a creamy serving of the TJ's fat free Vanilla Bean Greek Yogurt topped with 1 Tbsp chopped raw almonds.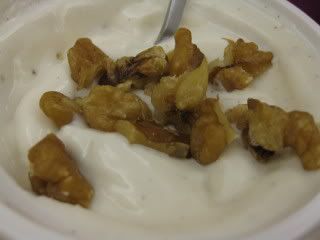 I think that the actual vanilla beans make this version of greek yogurt completely over the top – just look at how thick and rich and creamy this 130 calorie 0 g fat yogurt is!
I also had 1/2 of this huge organic fuji apple that made for great yogurt dipping.
After the market, I dropped off my co-worker and headed over to the nephews baseball game. It was fun to watch, but, they didn't really do so good. We got home around 8:30 and I just wasn't up for making/having a salad. I went with some leftover sesame chicken with noodles as we relaxed and watched one of The Husband's Earth Discovery DVD's.
My workout today was all strength training but I did cardio instead. I am going to make up and do both cardio and strength tomorrow.
GIVEAWAY MADNESS:
I have been meaning to share ALL these super cool giveaways with you all day! Be sure to check them all out – they rock!
* Megan is having the MOST AMAZING first Giveaway ever ~ Chocolate Plus Peanut Butter. Click here to ENTER but be sure to share if you win 😀
* Meghann – the runner that truly inspires me to get out the door is sharing her free loot from Blue Mountain Organics. Click HERE to enter!
* CUPCAKES!!! You really don't have to go here, but, if you want your chance to win the best dessert creation ever, click HERE for your chance to win some gourmet cupcakes!
YOU NOW HAVE T-2 HOURS & 8 MINUTES TO ENTER THE ANNIE'S MAC PACK GIVEAWAY!!! Make sure you have done all FOUR things for your chance to win one of the FOUR Prize packs. Good luck, good luck!!! I will announce a winner tomorrow morning.
I am off to get some serious zzzzzz's ~ Nite all!