Today feels like such a lazy day, but, it a good way. I slept in, woke up to some awesome Organic Fair Trade Decaf Coffee, caught up on blogging and had a fabulous breakfast. Although it's now 11 and that is ALL I've done 🙂
This morning I decided to give on of my new Artisana Nut Butters a try. I picked the Organic Pecan with Cashews because, seriously, doesn't that combo just sound amazing.
They should seriously sell these little samplers as a set. Each one contains the perfect 1 Tbsp serving. The nutritionals are a little higher because pecans are a more calorie dense and fattier nut. I LOVE how it only contains raw nuts, exactly how a nut butter should be. Each 1 Tbsp serving is 5 WWP (yes, a little high, but sooooo worth it!).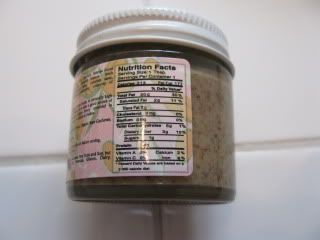 I think one of the biggest things I LOVE about these nut butters is that the old does not separate from the nut. They are super creamy and rich but not oily tasting. I topped my Thomas Double Fiber Whole Wheat English Muffin (1 WWP) with my entire 1 Tbsp container.
So amazing! You get the rich nuttiness of the pecan flavor with a hint of sweetness from the cashews. I think the cashews help to make it creamy too. It is definitely a nice change from almond and peanut butters ~ I highly recommend checking out this flavor if you are lookikng for something new to try.
I had a big cup of my farmer's market blueberries for 1 WWP as well.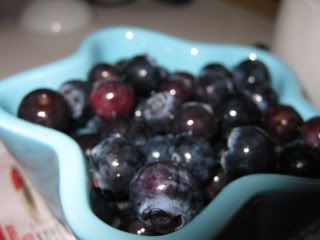 All together with the Sunday newspaper ads ~ it was the perfect start to my day (for 7 WWP)!
SUNDAY GIVEAWAYS:

* Gliding Calm is having fun with her very first giveaway ~ it's fun – click HERE to check it out.
* Have you entered all the times you can to win the signed copy of the Hungry-Girl Cookbook and T-shirt? If not, click HERE.
I am off to stop being lazy now ~ laundry, plan meals and shop for the week and do all that fun grown up stuff.
Catch you all later ~ Have an awesome Sunday!