As soon as I walked in the door tonight I started cracking up. Without any mention of what either person was wearing, The Husband was dressed EXACTLY like me. Here he was relaxed on the couch all cozy…..
And me sporting my cool Annie's 20 Year Anniversary shirt too! (Um – no bosses were in the office today so I was sporting the T-shirt, jeans & a pony tail b/c um, I can! LOL!)
Of course, I just HAD to totally subject him to testing out the new mini camera using the timer feature 😀
And then, just plain being cheesy because well I suppose I was a little camera happy at this point.
He wants to know if he gets credit for advertising for Annie's wearing their shirt? LOL Have I ever told you he LOVES their shirts so much that he actually stole all of the ones I've ever received. The one I have on is the only one I was allowed to keep because it's too small for him. Oh and my other one that says "Push Tail To Open" – he says he can't go there wearing that one 😀 soooo funny!
Ok – onto the food part of things. This afternoon I snacked on 1 cup of Trader Joe's Steamed Edamame – just the soy beans inside, minus the pods.
Dinner tonight was one of my absolute favorites. I LOVE using Pitas to make open faced Pita Pizzas (it's seems like you get 4 pieces this way), but, using Portobella Mushrooms takes it to a whole new level and saves you on calories!!!
The Husband cooked up the Turkey Italian Sausage. He make it extra crispy like the Food Network Pro he claims to be 😀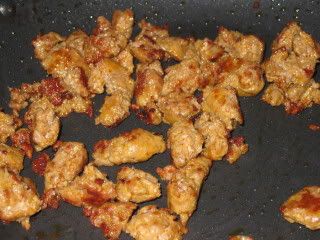 I prepped up 4 beautiful portobella mushrooms by wiping them clean and sprinkling them with a little garlic salt & pepper before placing them on a cookie sheet lined with foil and nonstick cooking spray.
I pulled out some homemade frozen pizza sauce from the freezer. I made up a huge batch of Roni's They Don't Know What's In there Pizza Sauce and froze it in 1/2 cup servings to pull out whenever I make pizza. You can of course cheat and buy premade sauce.
Then, add everything in layers – the turkey sausage, the cheese, the lowfat mozzarella, parmesan, cherry tomato slices and some fresh basil. You can add the tomatoes and basil after the pizzas cook if you prefer.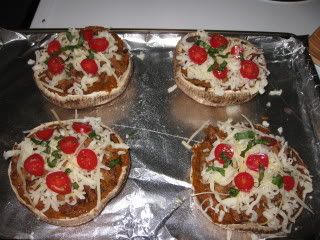 Put them in an oven preheated to 350 degrees and cook for 8-10 minutes or until cheese is melted and slightly browned. Tadah! So fast, easy and so healthy.
* You can make these Vegetarian by using Vegetarian Sausage or Omitting the Sausage.
** You can make these VEGAN by using Soy Cheese and if desired Soy Italian Sausage.
I had TWO Pizzas for 196 calories – such a deal!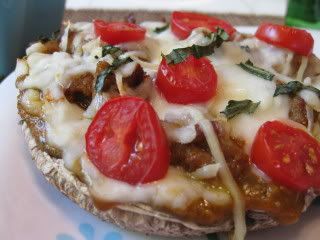 With 1/2 a cup of crunch red grapes as my dessert tonight.
This was such a fun and light dinner for around 250 calories – you can't beat that! It was all washed down with one of my favorite fizzy waters – Perrier!
I am off to get all the prizes ready to ship off tomorrow. Stay tuned in the AM for my quick recap (including my workout summary) and a super cool tip on eggs that you will ALL want to try! See you then.